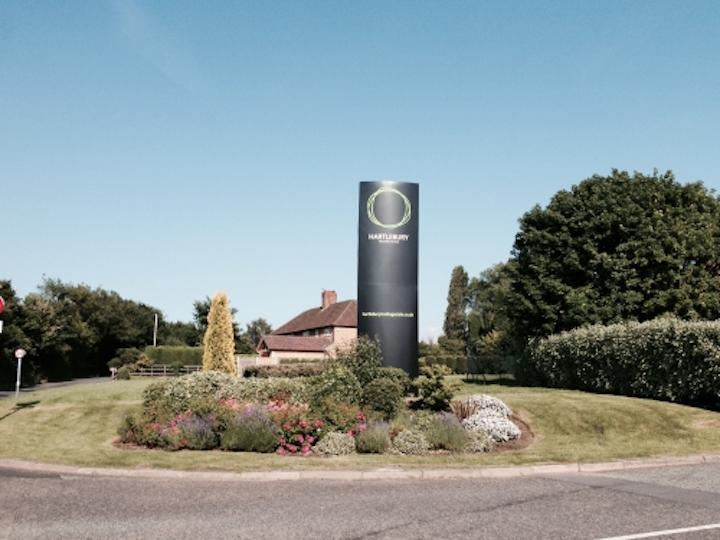 A customised signage solution for West Midlands-based Hartlebury Trading Estate is illuminated with Zeta's LED lighting.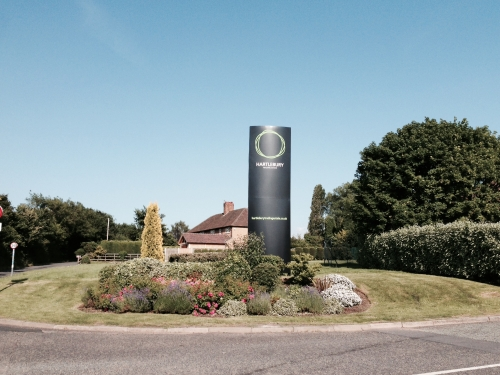 Zeta Specialist Lighting provides LED illumination for Hartlebury Trading Estate signage

A change of ownership prompted a full rebrand of Hartlebury Trading Estate which extends over 200 acres in a parkland setting and comprises a total floor area in excess of 1.45 million sq. ft.

Creating the new logo, literature and signage for the Estate was managed by full service design agency Kubiak Creative in partnership with Zeta's client NM Signs, specialists in customised signage solutions.

Central to the rebrand was a requirement for onsite signage that showcased the new fresh and modern design; especially the hoop design treatment that was employed as part of the new logo.

In particular, the Estate's new owners Schroder's were keen to incorporate an impactful illuminated signage solution at the entrance that would clearly promote the site day and night.

NM Signs produced two six metre high aluminium totems and selected Bicester-based Zeta Specialist Lighting's innovative Embedded LED Panel to provide the illumination. The Zeta Embedded LED Panel is a highly efficient LED panel that has excellent energy saving properties and delivers superior lighting levels. Widely used to light totems, it is ultra-slim -- just 3.5mm deep, waterproof and available in bespoke sizes for ease of fitting.

NM Signs' Director Tarquin Tullah said: "We found Zeta's Embedded LED panel to be the best possible solution for this project.

"Placing LEDs within a curved elliptical totem is an intricate process and it's essential to create uniform lighting on both the shallow and deeper elements of the structure. Zeta's Embedded LED panel which was supplied to our bespoke requirements removed the need to use light fences and significantly simplified the installation process. The light and the quality are really very good and we're delighted with the end result."

Adrian Dennis, Zeta's Sales and Marketing Director said: "The ability to optimise the illumination of the signage and showcase the new branding were key criteria on this project and we met the brief though this bespoke solution."
Contact:

Zeta Specialist Lighting
+44-(0)-1869-322-500
E-mail:

michelle.ryder@clearercommunications.co.uk
Web site:

Submit new products, case studies/projects, and other press releases at http://www.ledsmagazine.com/content/leds/en/addcontent.html and http://www.ledsmagazine.com/content/leds/en/iif/add.html.