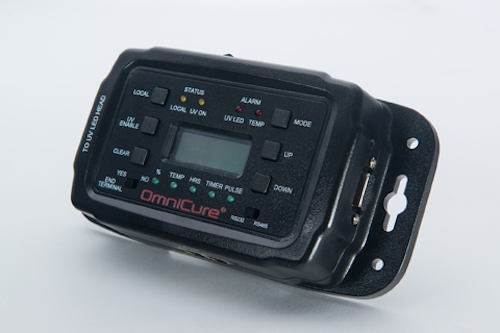 Mississauga, Canada -- Excelitas Technologies Corp., a global technology leader focused on delivering innovative light delivery solutions and customized optoelectronics, announced the expansion of the OmniCure AC Series UV LED curing solutions with its new PLC2000 Controller and AC Optical Adapter. These new product accessories are designed to complement the OmniCure AC Series of high power UV LED systems and provide customers with a highly flexible, fully integrated solution.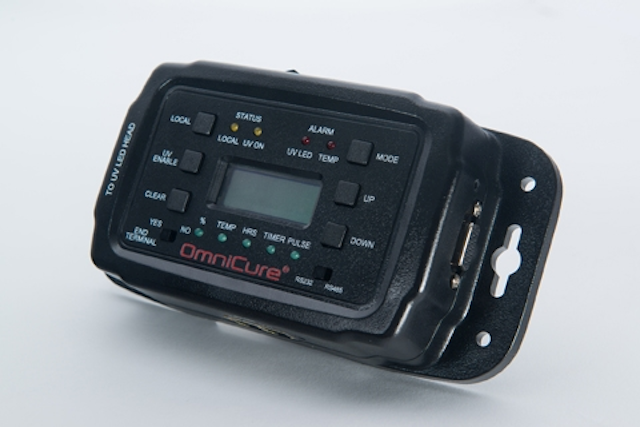 Excelitas expands OmniCure UV LED curing tools with controller and adapter

The OmniCure PLC2000 is a multipurpose external controller device that, when connected to an OmniCure AC Series UV LED head, enables immediate integration with the system to intelligently manage, monitor, and control the curing solution to help customers ensure a repeatable UV process. The PLC2000 can be used to dynamically adjust the output intensity, exposure time, and on/off capabilities while providing system information and error monitoring features. With unparalleled control of the OmniCure UV LED curing systems, the PLC2000 also supports RS232 and RS485 communications to allow for multiple UV LED heads to be connected, accessed, or controlled through a single computer terminal.

The new OmniCure AC Optical Adaptor provides manufacturers with the flexibility to convert a high irradiance focused exposure area into a larger area while maintaining exceptional illumination uniformity. Designed for use with the OmniCure AC4 and AC7 Series UV LED systems, the AC Optical Adaptor optimizes optical power and creates evenly distributed irradiance across output areas of 100mm x 100mm, 100mm x 150mm, 70mm x 70mm and other custom sizes that are available upon request. These adaptors increase the flexibility of the AC Series of products, and expand the range of applications that can be addressed.

"With over 30 years of UV curing experience, we understand the importance for our customers to have the right UV curing solution for their application," said Mike Kay, Director of Product Management, Industrial Curing at Excelitas Technologies. "The PLC2000 and AC Optical Adaptor are product accessories designed specifically for the OmniCure AC Series UV LED curing systems to offer enhanced capabilities for maximum flexibility and control of their UV process."

Other OmniCure product accessories available for the AC Series of high powered UV LED curing solutions are the OmniCure SC Series system controllers and the OmniCure CV300 conveyor. These accessories collectively support the product portfolio and enable system solutions that are scalable, easy to configure, and provide flexibility for a limitless range of applications.

The OmniCure product family of UV curing solutions will be showcased at The Assembly Show in Rosemount, IL at the Excelitas booth #1424 from October 29-30, 2014 and at MD&M MN, Minneapolis, MN at booth #641 from October 29-30, 2014.

About OmniCure

OmniCure, formerly of Lumen Dynamics (acquired by Excelitas Technologies Corp. in November 2013) offers innovative light curing solutions that provide leading manufacturers worldwide with the most advanced, simple-to-use and reliable UV curing technology. OmniCure leverages its unique industry expertise that spans over 30 years to deliver faster and more consistent process curing results, ensuring our customers benefit from the highest product quality and production efficiency savings. The OmniCure product family includes both advanced lamp systems and UV LED solutions to best meet the demands of spot curing to small and wide area curing applications.

About Excelitas Technologies Corp.

Excelitas Technologies Corp. is a global technology leader focused on delivering innovative, customized solutions to meet the lighting, detection and other high-performance technology needs of customers. From medical lighting to analytical instrumentation, clinical diagnostics, industrial, safety and security, and aerospace and defense applications, Excelitas Technologies is committed to enabling our customers' success in their end-markets. Excelitas Technologies has approximately 5,000 employees in North America, Europe and Asia, serving customers across the world. Connect with Excelitas on Facebook, LinkedIn and Twitter.
Contact:

Excelitas Technologies Corp.
North America:
+1-847-537-4277
E-mail:

Web site:

www.excelitas.com/omnicure

Submit new products, case studies/projects, and other press releases at http://www.ledsmagazine.com/content/leds/en/addcontent.html and http://www.ledsmagazine.com/content/leds/en/iif/add.html.