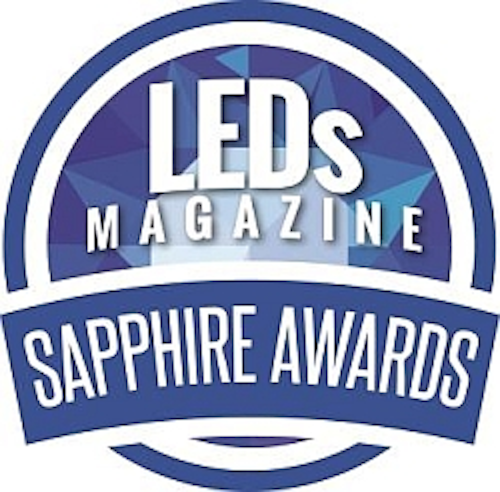 Nashua, NH -- LEDs Magazine is now accepting applications for the inaugural LEDs Magazine Sapphire Awards program. The program will culminate with the magazine recognizing the industry's most innovative LED-centric enabling-technology products and LED-based lighting products as determined by a stellar panel of independent LED-industry experts. The Sapphire Awards program will also recognize an Illumineer of the Year, a person or team that is responsible for an especially noteworthy development in the LED-centric technology sector.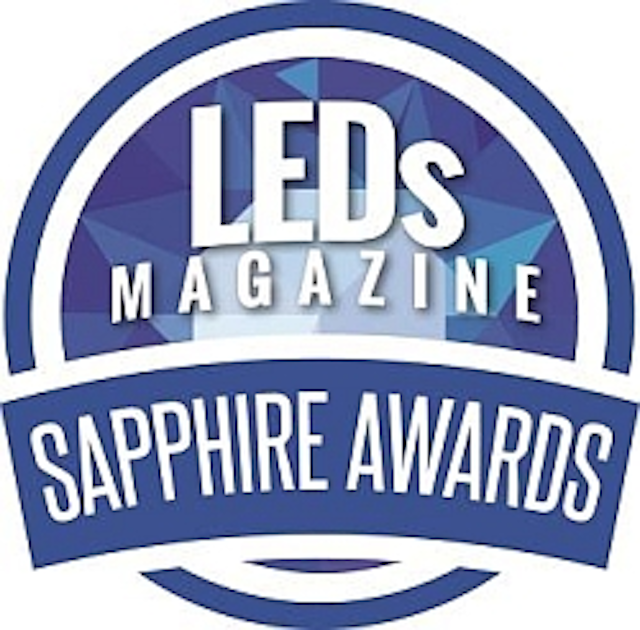 Applications are now being accepted for the inaugural LEDs Magazine Sapphire Awards
LEDs Magazine invites vendors to submit written information, photos, and spec sheets about products/systems that have been released or upgraded in the past year. This information will be used by the Sapphire Awards panel to rank products/solutions based on their unique technology or application thereof, innovation, ease of use, efficiency, reliability, and contribution to profitability. The names of the 2015 panel members will not be released prior to the review process in the interest of maintaining the full independent integrity of the ranking process.
LEDs Magazine staff will play a supporting role in the judging of the submitted product and Illumineer nominations. Scores/comments from the review panelists and the names of the panelists may be made public at the awards program, although the publicized scores and comments will not be attributed to specific panelists. This process helps ensure that judges can be as frank and honest about the technical matter they are reviewing as possible, while providing the most useful feedback about new products and technologies in the LED and lighting communities.
"We are thrilled to open the nomination process for our inaugural LEDs Magazine Sapphire Awards," said Editor-in-Chief Maury Wright. "The companies enabling the solid-state lighting revolution are among the most innovative in the technology sector and we intend to identify the best and brightest work for the entire industry to see. The companies recognized in the process will deserve the accolades they receive at our gala awards dinner next February."
The results of the reviews will be announced concurrent with Strategies in Light in February 2015.
Learn more at ledsmagazine.com/sapphire
About LEDs Magazine
LEDs Magazine is the leading information resource for the global LED and lighting community, serving thousands of readers that specify, design, and manufacture LED-based products for a wide range of end-use applications. Its key value proposition is to offer well-written, unbiased, and informative editorial content to more than 63,000 subscribers. LEDs Magazine provides news and product information on a daily basis in combination with in-depth technical articles, analysis, and case studies. For additional information about LEDs Magazine, visit www.ledsmagazine.com
About PennWell Corporation
PennWell Corporation is a privately held and highly diversified business-to-business media and information company that provides quality content and integrated marketing solutions for the following industries: Oil and gas, electric power generation and delivery, hydropower, renewable energy, water and wastewater treatment, waste management, electronics, semiconductor manufacturing, optoelectronics, fiber-optics, aerospace and avionics, LEDs and lighting, fire and emergency services, public safety, and dental. PennWell publishes over 130 print and online magazines and newsletters, conducts 60 conferences and exhibitions on six continents, and has an extensive offering of books, maps, websites, research and database services. In addition to PennWell's headquarters in Tulsa, Oklahoma, the Company has major offices in Nashua, New Hampshire; London, England; Houston, Texas; San Diego and Mountain View, California; Fairlawn, New Jersey; Moscow, Russia; and Hong Kong, China. For additional information about PennWell Corporation, visit www.pennwell.com.
Contact:
Kim Ayer, Marketing Manager - LEDs Magazine
+1.603.891.9204
E-mail:
Web site:
Submit new products, case studies/projects, and other press releases at http://www.ledsmagazine.com/content/leds/en/addcontent.html and http://www.ledsmagazine.com/content/leds/en/iif/add.html.