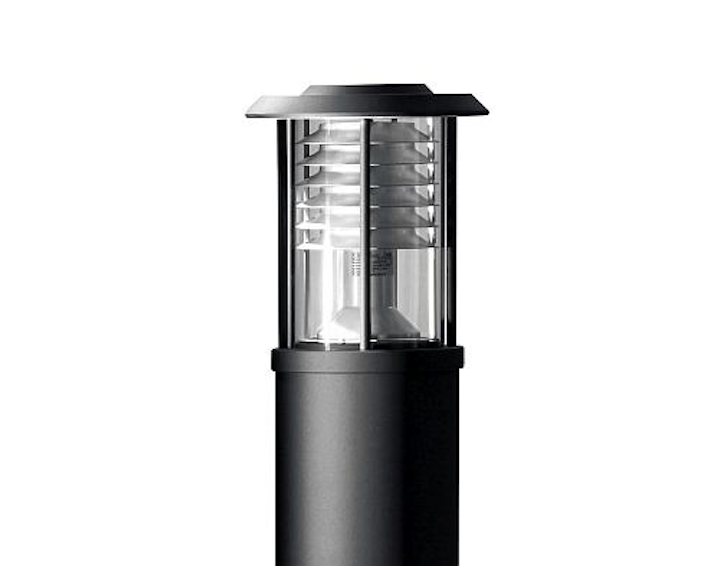 New Product Introduction:Valencia LED Bollard -- solid-state illuminating bollard for accenting, waymarking, and pathway lighting.
Product Design: Hess GmbH Licht + Form, Germany
Manufacturer: HessAmerica, U.S. subsidiary of Hess GmbH Licht + Form, Germany.
Product Applications: The Valencia LED Bollard is suitable for pathway illumination and accenting, where the need for long life, energy efficiency, and contemporary design converge. Applications include corporate and university campuses, malls, hospitality and entertainment venues, and mixed-use developments.
Product Description: The classic dayform of the Valencia LED Bollard keeps pace with contemporary architecture with the integration of LED sources. Equipped with state-of-the-art LEDs, the bollard delivers high-quality illumination with low power consumption and long service life.
The LED light engine consists of four linear arrays working in conjunction with an internal cylindrical lens employing an advanced light shaping diffusing film. The high transmission optical film blends the light, eliminating hotspots of individual diodes, thereby producing soft diffused illumination reminiscent of conventional vertical lamp bollards. An internal louver minimizes brightness by shielding the source from normal pedestrian viewing angles.
The Valencia LED Bollard is available with standard or high output light engines. The standard model meets industry standards of illuminance and uniformity for most typical pathways when spaced on twenty-four foot centers. The high output model is well suited for applications where high ambient light levels exist or when compliance with path of egress requirements is needed. The LEDs are available in warm or neutral color temperatures with a CRI greater than 80. Power consumption is 20 watts for the standard model, and 37 watts for the high-output model.
The luminaire head is comprised of a cast aluminum top and precision-machined aluminum components to form the housing. The bollard shaft is fabricated from high-strength extruded aluminum extrusion.
Standard finishes are matte silver grey metallic or black. Special colors are available on request. Ceramic metal halide and compact fluorescent bollard models are also available. Complementary products include pedestrian-scale pole and wall mounted luminaires in LED or HID light sources for applications requiring consistent design aesthetics throughout a site.
Construction and Finishes: Valencia LED luminaire housing consists of a machined aluminum base and cast aluminum top. The exterior of the cast aluminum top is painted to match the fixture, while the underside is finished in white for increased efficiency. Clear cylindrical lens is impact-resistant acrylic. Bollard shaft is fabricated from high strength 6061 extruded aluminum tubing with nominal thickness of 0.28" and heat treated to a T6 temper. Flangeless bollard installs onto a mounting cup secured with hot-dip galvanized anchor bolts embedded in a concrete foundation (by others).
Four linear LED circuit boards are oriented vertically and mounted to an internally finned aluminum extrusion. An internal acrylic cylinder, with light-shaping diffusing film surrounding the LEDs, controls and directs light output outward and downward for increased efficiency. Stacked internal louver is finished in high-temperature white powder coat finish.
White LED sources are available in a choice of 3000K or 4000K color temperatures with CRI greater than 80. High power factor electronic driver accepts universal input voltage from 120vAC through 277vAC with total power consumption of 37 watts. Luminaire is CSA Certified for Wet Locations.
Ordering Information: Literature and specifications for the Valencia LED Column, other high-performance, original European-design outdoor architectural lighting products, or site amenities, are available by contacting authorized HessAmerica professional independent lighting sales representatives at www.hessamerica.com/About_us/Representative/.
Contact:
HessAmerica
+1-864-487-3535
E-mail:
Web site: