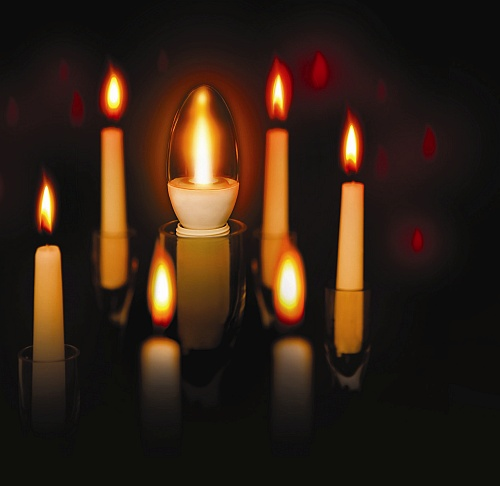 Light+Building 2014, Frankfurt
Verbatim, Hall 4.2; Stand F30

Verbatim showcases innovative optics for improved LED lamp performance

London, UK -- Verbatim announce they will unveil a number of LED lamp innovations from Mitsubishi Chemical Corporation at Light + Building: a dichroic-effect MR16 LED lamp; advanced omnidirectional optics for Classic A lamps; and the development of a range of true-colour flame candle lamps utilizing VxRGB technology.

Verbatim's dichroic MR16 LED lamp is a cost-effective, energy-efficient replacement for dichroic halogen lamps popularly used for track lighting, pendant fixtures and retail display lighting. The lamp provides all the energy saving benefits of LED lighting together with the sought after surround lighting effect that is the characteristic of dichroic halogen lamps. The Verbatim 4W dichroic MR16 LED lamp with GU5.3 base delivers excellent optical control with minimal spill and a crisp 30 degree beam angle focusing light where it's needed. With a compact body, the MR16 does not interfere with fixtures.

Using a unique lens created via a two-colour molding process developed by Mitsubishi, Verbatim will also showcase Mirageball optical technology. This special optic lens delivers uniform omnidirectional light distribution -- something that LED manufactures have found difficult achieving without shadows or rings being formed from the light. The new Classic A lamp is perfect for floor lamps or wall sconces where a very even and wide angled light is necessary.

Also at L+B 2014, Verbatim will demonstrate additional versions of its pioneering VxRGB™ Classic B candle lamps. The VxRGB Natural Vision Flame Candle LED lamp allows users to experience the warmth and ambience of real candlelight by delivering a colour temperature of 1900K which closely resembles the warm colour of a real candle flame. This LED candle is joined by Rich Flame Candle, an even warmer white LED Classic B lamp tuned to 1650K; Flicker Flame Candle, a 1900K LED Classic B that also simulates the gentle fluctuation of a burning candle; and Tunable Flame Candle that replicates incandescent lamps by providing a warmer light as it dims from 2400K to 1900K.

Verbatim is also introducing two new high CRI VxRGB MR16 spots. With a CRI of 97 and a choice of warm white (2950K) or cool white (6500K), the new Verbatim VxRGB lamps are ideal for locations that demand the highest quality lighting. The cool white version is particularly suited to jewellery stores or certain retail stores or medical facilities that require very cool, crisp white directional light.

As well as these unique Mitsubishi Chemical originated LED products, Verbatim will also present a range of integrated LED downlights for general and accent lighting in a selection of diameters and lumen outputs to meet different needs.

Additionally, the newest VELVE™ white organic light emitting diode (OLED) panels using a new wet coating process will be demonstrated. Jointly developed by Pioneer Corporation and Mitsubishi Chemical Corporation, wet coating is an effective and reliable method for producing larger, better quality panels at lower cost enabling breakthrough lighting applications to be developed.

Held every two years, Light + Building is one of the world's largest trade shows attracting architects, interior designers, lighting specifiers, contractors and distributors working across Europe.

About Verbatim
Verbatim is a leading global company in data storage and LED lighting with a broad product portfolio spanning consumer and professional applications. Verbatim has been shaping the development of data storage devices since 1969 and is the world's No 1 supplier of optical media (Blu-ray, DVD and CD). The company also markets flash memory, external hard drive storage solutions and a wide range of computer accessories.

In addition, the company is an innovator in fast-growing LED and OLED lighting, developing products that offer low power consumption, long life and a better lighting experience. It is also an emerging supplier of water filtration systems; its Cleansui brand is Japan's favourite water filter.

Verbatim is a subsidiary of Mitsubishi Kagaku Media owned by Mitsubishi Chemical Corporation, one of the world's largest chemical companies, which invests heavily in R&D across many diverse sectors. The company's operating principles are founded on helping people to live in a healthy, comfortable and sustainable way. Verbatim's regional organisations are EMEA, APAC and Americas, with offices in most countries in the world. The company's European headquarters are based in the UK.


Contact:

Jenny Noad -- for Verbatim/Mitsubishi Chemical
+44-1225-470000

E-mail:

Web site: