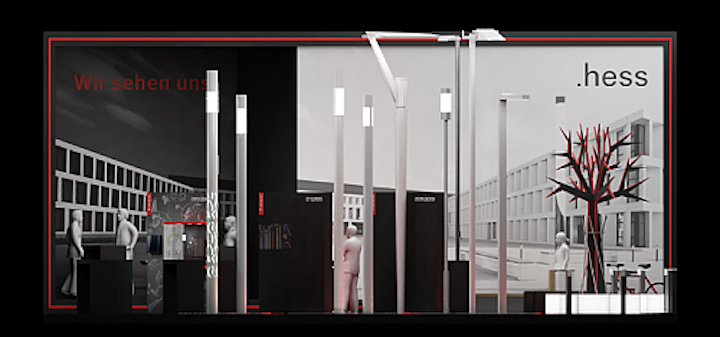 Hess: Premiere fireworks again set new accents
- New generation of luminaires at the leading lighting trade show Light + Building 2014
- Multifunctional luminaires, new designs and innovative technologies
- Plenty of potential combinations thanks to high-quality site furnishings

Villingen-Schwenningen.
Hess GmbH Licht + Form is premiering some exciting new products at the Light + Building trade show, which is taking place in Frankfurt, Germany, from 30 March to 4 April. Items on show will include new luminaires and matching, high-quality site furnishings.

Hess showcases a range of completely new product families. In addition, a number of products are being relaunched with upgraded technology. Customers can look forward to a successful blend of timeless design; advanced, energy-efficient LEDs, and traditional craftsmanship featuring the signature Hess quality. At the same time, the new luminaires impressively reflect Hess' sophisticated product philosophy and strong sense of innovation.

VAREDO - Never before has uniformity been so diverse
A new product family that is exceptional in the truest sense of the word. In the shape of VAREDO, Hess has created a new generation of luminaires and site furnishings. A generation of solutions that gives landscape architects and lighting designers maximum freedom when arranging urban spaces. VAREDO is inspirational and allows architects and designers to unleash their creativity to an unprecedented extent.

AVANGARDO 2 - The new number 1
Value retention, durability and reliability are the stand-out features of the new AVANGARDO 2 collection, along with state-of-the-art LED technology. Designed specifically for buildings and adjacent areas, the luminaire families are comprised of several product groups -- ranging from in-ground and wall luminaires to illuminating bollards -- in an integrated and holistic design.

Multifunctional system CITY ELEMENTS
Hess is also presenting its CITY ELEMENTS in a different light. This multifunctional lighting system is now available with LED technology across the board. Here special focus is placed on very high light quality (XICATO inside).

Diverse additional functions and supply solutions for innercity requirements are possible. Hess demonstrates the installation of a camera with WLAN transmission to a mobile terminal device.

Even before the Light + Building, customers and potential prospects can get first exciting insights into the new world of Hess on our website www.hess.eu/lets_meet.

Hess presents its new product range at the Light + Building in Frankfurt in Hall 5.0, Stand A60.

About Hess GmbH Licht + Form
Thanks to an extremely varied range of luminaires, Hess is able to fulfil every lighting design requirement in outdoor public spaces, as well as illuminating buildings both inside and outside. Matching, high-quality site furnishings complete the product portfolio. Combining lighting and furnishings in the ideal way allows integrated concepts to be implemented across urban and outdoor spaces in line with the Hess slogan "We design cities".

For cities, towns and communities, Hess is the right partner when it comes to refurbishing and renovating lighting solutions. Optimised reflectors and new lighting technologies such as LEDs, for example, are hallmarks of the energy-efficient luminaires made by Hess. Services include tailored support on individual projects. When it comes to luminaires, Hess assists architects, planners, cities, municipalities and building owners from the planning stage through to installation -- throughout Europe and beyond. With the main factory located in Villingen-Schwenningen (Germany), there are also manufacturing operations in Gaffney, South Carolina (USA). Hess has been part of the Nordeon Group since 1 October 2013.

Contact:

Hess GmbH Licht + Form - Marco Walz, Communications
+49 7721 920-475

E-mail:

Web site: