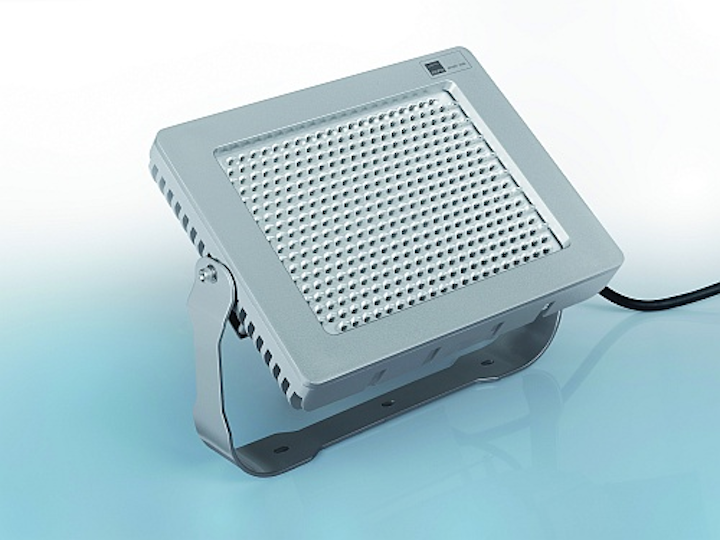 Starting March 30, 2014, Jenoptik will be exhibiting efficient lighting solutions at the world's largest trade fair for the lighting and building automation industry. New features make it possible to control the Lucid arena pro hall luminaire using sensors and situation-based automation.
Jenoptik's Optical Systems division will focus the spotlight on its Lucid arena pro LED hall luminaire, which was developed in collaboration with LEiDs. The Lucid arena pro was designed for the illumination of especially tall buildings, and features an outstanding system efficiency of over 100 lm/watt. In comparison with previous conventional models, it provides a 25% increase in brightness with just 10% more power consumption and very low heat build-up. These conditions allow for lighting designs that require significantly fewer luminaires than before to achieve optimal illumination. In some cases, and depending on the project, the initial investment can be recouped in fewer than two years.
In line with this year's official Light+Building motto, "Explore Technology for Life -- the best energy is the energy that is not consumed," Jenoptik is presenting its Lucid arena pro as an efficient and economical lighting solution.
Furthermore, the option to add DALI (Digital Addressable Lighting Interface) control allows for individual control of every single luminaire. Within a building automation system, lighting scenes can be programmed to incorporate temporary lighting changes or changing workstation situations based on an area's individual use.
The new features of the Lucid arena pro include sensors and situation-based automation control options. Lighting in rooms and halls can be controlled via motion sensors and adapted in a targeted way to changes in brightness conditions.
Jenoptik's Lucid arena pro is available in two different versions: with an elliptical light cone for storerooms with aisles (30/60°) and with circular lighting for factory buildings, gymnasiums and commercial premises (60° narrow angle or 120° wide angle). Customers have the choice of cool white, daylight white, normal white or warm white when selecting the color temperature. The luminaire is resistant to cold temperatures down to -25°C (-13°F) and in higher temperatures the metal heat sink protects it from overheating. Thanks to its lifespan of 60,000 operating hours, it is low-maintenance, and suitable for both new installations and conversion projects.
Jenoptik in Triptis, Germany is a well-established partner within the lighting industry. One of their main competencies include the design and production of integrated modules and polymer-based optics for the optimization of light distribution, which Jenoptik uses in the Lucid LED lighting range. Customers also benefit from extensive expertise in light planning, feasibility studies and customer service.
Visit Jenoptik at Light+Building in Frankfurt in Hall 4.2, Stand K33, from March 30 to April 4, 2014.
About the Jenoptik Business Unit Optoelectronic Systems
As an integrated optoelectronics group, Jenoptik operates in five divisions: Lasers & Material Processing, Optical Systems, Industrial Metrology, Traffic Solutions and Defense & Civil Systems. Its customers around the world mainly include companies in the semiconductor and semiconductor equipment manufacturing industry, automotive and automotive supplier industry, medical technology, security and defense technology as well as the aviation industry.
The Optoelectronic Systems business unit, as part of the Jenoptik Optical Systems division, is a provider of integrated opto-electronic system solutions. The business unit has competencies in development of optics, electronics and software, and owns manufacturing technologies for producing polymer-based optical and electronic components and modules as well as assembly technologies for complete devices. The Optoelectronic Systems business unit can realize all important stages of the value-added chain for system integration – from development and design to prototype production through supply chain management and series production.

Contact:
Dr. Markus Besenbeck, Director Marketing & Business Development - Optical Systems Division
JENOPTIK I Optical Systems
JENOPTIK Optical Systems GmbH
+49 3641 65-2276

E-mail:

Web site: