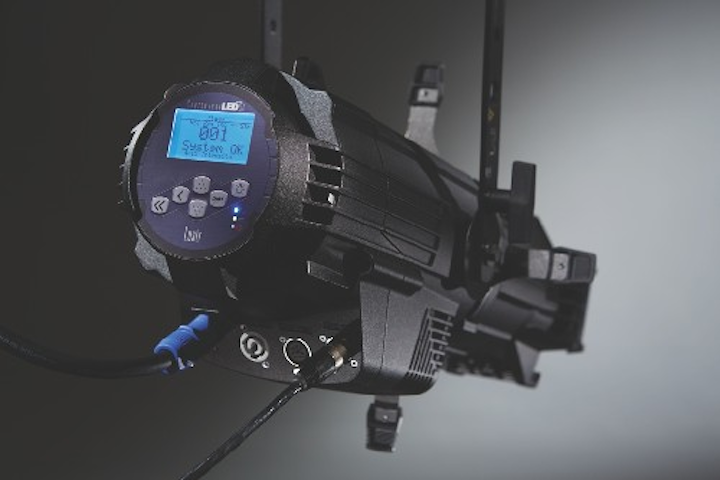 ETC is expanding its LED family, with the introduction of two new products: the Source Four LED Series 2, a powerful spotlight with the most expansive colour spectrum possible from an LED luminaire; and the Source Four Mini LED, an ultra-energy-efficient variation of ETC's tiniest fixture. Both were seen for the first time in public at the Prolight + Sound show in Frankfurt.

Source Four LED Series 2
Since introducing the Source Four LED luminaire in 2012, ETC has experimented with the x7 Color System, mixing together new colour combinations to create brighter light that covers a larger spectrum. "The result is the Source Four LED Series 2 Lustr array," explains ETC Fixtures Product Manager Jim Uphoff. "We've made advances in white light -- with the Source Four LED Series 2 being up to twice as bright as the original Source Four LED Lustr+ -- and improved certain tints to have up to three times the brightness. And it can still produce more saturated colours than any other LED luminaire on the market, giving lighting designers a much broader, more striking palette to work with."

Thanks to the improved colour capabilities and increased brightness, the Source Four LED Series 2 is a multipurpose tool that can fill any role in a lighting installation, including front-of-house and long-throw positions. Says Uphoff: "It can easily be used to light talent on stage or on screen, with natural white light that can be tweaked to compliment individual skin tones. And when paired with a Source Four LED CYC adapter, the Source Four LED Series 2 is a powerhouse for lighting cycloramas. White and painted PVC and cloth come to life with vibrant colour and smooth coverage."

Source Four Mini LED
ETC is also unveiling the much-anticipated LED version of the Source Four Mini spotlight. Only 23cm long, the Source Four Mini LED looks like its 50W tungsten counterpart, but features an energy-efficient 12W, 35,000 hour LED lamp.

Available in portable, canopy ceiling mount and 3-circuit track mount versions, the Source Four Mini LED can be used alone or alongside the tungsten Source Four Mini in installations where larger fixtures can't fit. The Source Four Mini LED is especially suited for architectural applications. "Stricter regulations and new energy codes have made it more difficult to include conventional lighting fixtures in architectural lighting designs," says ETC Architectural Product Manager Bryan Palmer, "but the Source Four Mini LED allows office buildings, museums, art galleries and other venues to get the great optics, functionality and quality of the Source Four Mini, while staying within energy guidelines."

To learn more about the Source Four LED Series 2, Source Four Mini LED, and all of ETC's products, visit www.etcconnect.com.

Contact:

ETC

E-mail:

elliot.herman@digitaldeluxe.co.uk

Web site: