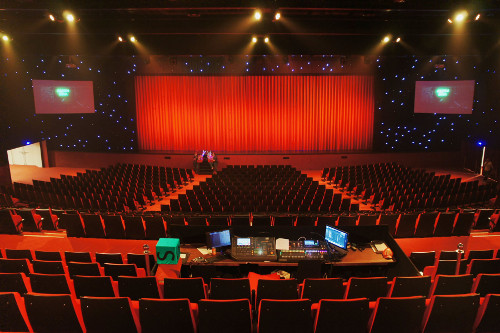 Genk, Belgium based creative lighting practice Painting With Light (PWL) has designed a complete bespoke interior, exterior, foyer and house lighting scheme and control for the brand new 1400 seater luxury Plopsa Theatre, located at the Plopsaland de Panne theme park and business centre in West-Flanders, Belgium.

PWL also engaged in a consultancy role for the stage lighting specification and installation, and has a relationship with the park and its operators, The Plopsa Group, that dates back over a decade to when the Park was first opened in 2000.

The striking Plopsa Theatre foyer which occupies 13,000 square metres with over 12 metres of headroom is also used as a multi-purpose event space to accommodate anything from gala dinners to special presentations. This expansive open area required lighting that was as flexible as possible to facilitate a myriad of different activities and uses.

For this, Luc Peumans and his team from PWL devised eight fabulous giant crystal chandeliers, which take on a scenic as well as a functional role in the space.

They are each 3 metres tall and flown in the ceiling. They were co-designed by Luc Peumans and manufactured in China to their spec, each containing over 100 incandescent bulbs.

Also inbuilt into the celling of the foyer are 64 RGB LED down-lighters to complement the warm glow and shimmering effects emanating from the chandeliers. Both types of foyer mood lighting have been a huge hit with guests attending evening events and gala occasions!

In the theatre auditorium the PWL team specified a fully LED solution using around 90 Compact PAR Tri 7 fixtures from Dutch manufacturer, Showtec.

These give the space an extremely classy feel and illuminate the audience with minimal shadowing on their faces, and are perfect tools to create the right atmosphere in the auditorium for every event.

The auditorium stair treads are also all fitted with LED 'nose' strips as part of the creative lighting -- primarily for safety - but these also happen to look very cool!

The whole design concept was developed, explains Peumans, "To maximize the 'multi-purpose' nature of the building and its public spaces, and with adaptable control so lights can be changed for theming purposes or to suit client requests or special occasions.

For additional magic, PWL decided to wrap the entire theatre auditorium walls in a ShowLed Classic starcloth.
For control, a Pharos TPC (touch panel control) system was chosen with a DALI interface to enable the conventional lighting in the foyer -- 60 Iguzzinni LED down lighters -- to be integrated with the chandeliers and ceiling LED fixtures.

Using Luminex ArtNet-DMX nodes for data merging, all the auditorium audience lighting -- including the star cloth surround -- can be controlled via the main stage / show lighting grandMA console if desired. This was the most straightforward way of incorporating that particular control option for the auditorium lighting and starcloth.

Programming was completed by PWL's Geert Moors.The exterior lighting is currently still 'work in progress', and features some Iguzzini Walk Up up-lighters illuminating the facades, controlled by DMX relays. PWL's work at the Plopsa Theatre ran concurrently with various other lighting projects being undertaken, including the re-lighting of certain attractions and shows across the Group's five different parks in Belgium, Holland and Germany.

Currently PWL is also working on a PlopsAqua water theme park and a new Scream Coaster attraction. The theatre is used for all the park's own shows and a selection of external events, including recently for the Miss Belgium beauty pageant TV show.


Contact:

Painting With Light (PWL)
+32-13-31-30-11

E-mail:

Web site: