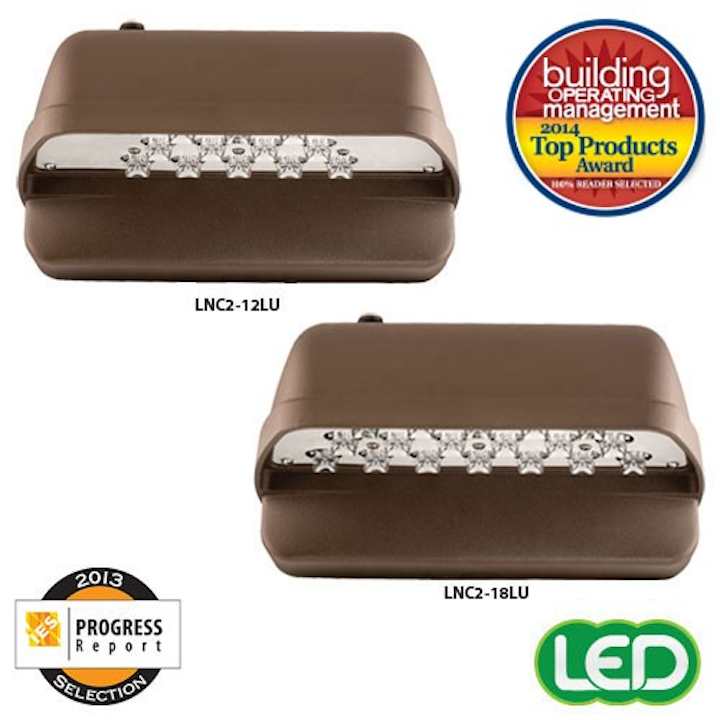 GREENVILLE, S.C. -- Hubbell Lighting, a world leader in lighting innovation, announced today it has earned a Next Generation Luminaires (NGL) Award for Hubbell Outdoor Lighting's Laredo LNC2 LED Wallpack. The award was presented at Strategies in Light in Santa Clara, California on February 26, 2014.
The compact Laredo LNC2 is the perfect fixture for energy efficient perimeter and entry illumination with a typical wall mounting height of 12-15ft. The high output fixture delivers up to a 5:1 mounting height ratio, meaning greater coverage and fewer fixtures to install and maintain. The Laredo LNC2 has an acrylic diffuser accessory that can be used for lower LED brightness near building entrances or other pedestrian areas and has a protective polyester finish for a long lasting appearance. The wallpack's die-cast aluminum housing thermally conducts LED heat to provide optimal performance and long life, while a powder paint finish provides durability in outdoor environments. The fixture is available in 3000K, 4200K and 5100K CCT.
"Having also received a Building Operating Management Magazine Top Products Award and recognition in the 2013 Illuminating Engineering Society Progress Report, this Next Generation Luminaires Outdoor Award proves that Hubbell Outdoor Lighting's Laredo LNC2 is in a class of its own when it comes to entry and perimeter lighting," said Scott Muse, President of Hubbell Lighting.
The NGL Competition is sponsored by the U.S. Department of Energy, the Illuminating Engineering Society, and the International Association of Lighting Designers and was launched in 2008 to promote excellence in the design of energy-efficient LED luminaires for general illumination in commercial lighting applications. The panel of judges chooses winners based on a number of strict criteria including: color quality, energy-efficiency, light distribution, aesthetic appearance, innovation, and more. Out of over 100 outdoor products submitted to the competition, Hubbell Outdoor Lighting's Laredo LNC2 was chosen as a 'Recognized' winner.
To learn more about Hubbell Outdoor Lighting's award-winning Laredo LNC2 Wallpack, visit: http://www.hubbelloutdoor.com. For additional information on Next Generation Luminaires' Competition, please visit: http://www.ngldc.org/.
About Hubbell Lighting
Hubbell Lighting is one of the largest lighting fixture manufacturers in North America. The company provides a full range of indoor and outdoor lighting products serving the commercial, industrial, institutional, and residential markets. Hubbell Lighting brands include Alera Lighting, Architectural Area Lighting, Beacon Products, Columbia Lighting, Compass Products, Devine Lighting, Dual-Lite, HomeStyle Lighting, Hubbell Building Automation, Hubbell Industrial Lighting, Hubbell Outdoor Lighting, Kim Lighting, Kurt Versen, Prescolite, Progress Lighting, Security Lighting, Spaulding Lighting, Sportsliter Solutions, Sterner Lighting Systems, Thomasville Lighting, and Whiteway. Hubbell Lighting: one name, distinctive brands, limitless lighting possibilities. For additional information, please visit www.hubbelllighting.com and follow Hubbell Lighting on YouTube, Twitter and Facebook.

Contact:
Andy Beck, Makovsky, for Hubbell Lighting
+1-202-587-5634
E-mail:
Web site: