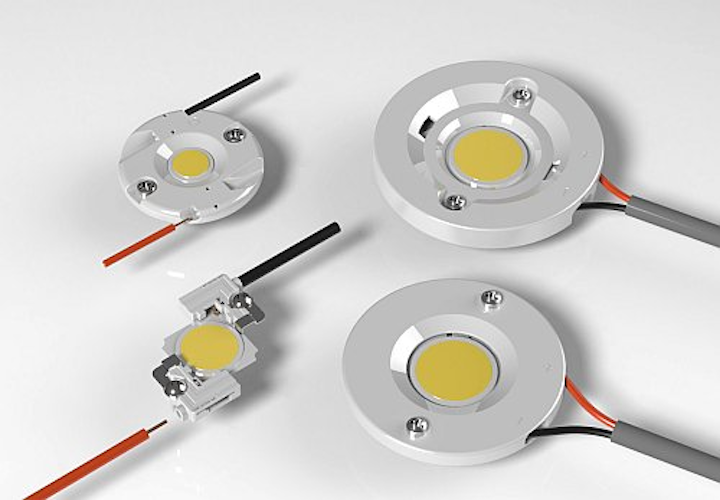 FRANKFURT, Germany -- TE Connectivity (TE), a world leader in connectivity, will unveil smarter, more efficient building and lighting connectivity solutions at the light+building show, Hall 4.0, B26. TE is featuring state-of-the-art LED holders, advanced lighting connector systems, multi-channel dimming receptacles, as well as other products that enable the rapid adoption of solid state lighting.

Featured products include:
NECTOR M and S Connector Systems: The NECTOR product family offers one of the smallest, power connector systems available. It is designed to meet the lighting industry's need for a compact, easy-to-install interconnect solution. With incredibly compact, circular form factors, an endless array of configurations, low installation costs and true plug-and-play interfaces, NECTOR interconnects are the new standard for modular wiring design in intelligent buildings.
LUMAWISE LED Holders (shown): LUMAWISE LED holders provide highly flexible and adaptable connection platforms that are compatible with an extensive range of commercial LEDs. The ground-breaking LED holders enable manufacturers to bring their end products to the market faster with solutions that promote simplified integration and adoption of LEDs that are easily terminated and have solderless, electrical, optical and thermal connections. LUMAWISE LED holders improve termination repeatability and simplify the manufacturing process with solderless integrated poke-in wire connections that significantly reduce the possibility of damage to LEDs.
ANSI C136.41 Compliant Dimming Receptacles: TE's new ANSI C136.41 Compliant Dimming Receptacles are an advanced solution for the electrical and mechanical interconnection between a photo control cell and a street lighting luminaire. The receptacles provide a state-of-the-art standardized interface that facilitates flexible, unparalleled power and dimming control of street lighting. The groundbreaking receptacles are pre-determined with wire leads to allow for ease of integration into a new or existing light fixture.

TE is also featuring the following integrated solutions:
SMT Releasable Poke-In Wire Connectors: TE's new low profile, releasable poke-in connectors offer increased flexibility in delivering power solutions for LED lighting applications. TE's innovative, poke-in connectors are designed to simplify direct power lead wire installation and allow for multiple insertions without damage to the connection. The SMT Releasable Poke-In Wire connectors eliminate the need for hand soldering wire leads to metal clad printed circuit boards, saving manufacturers on assembly time and resources.
Optical LAN Solutions (OLS) – TE's new Optical LAN Solution offers one of the most advanced, high-performance LAN solutions available today. The state-of-the-art OLS delivers converged voice, video and data on a single strand of fiber at gigabit speed to each destination. As a scalable passive optical network, OLS helps reduce power consumption and requires less active equipment resulting in reduced operational costs, lowest downtime and no maintenance.
CLOUDSPLITTER Connector System – TE's advanced CLOUDSPLITTER Connector System is a single-cable solution for powered devices that delivers Cat5e performance and up to 250 watts of power over a single cable. The connector cable combines signal and power available in shielded or unshielded configurations. The progressive connector system is well-suited for use in video surveillance over IP networks, intelligent building management, factory automation and wireless network transceivers.
Solid State Lighting Connections: TE Connectivity is at the forefront of Solid State Lighting with the latest tools, technology and the expertise needed to make smarter lighting connections. TE understands the powerful trends being driven by SSL and the way power is connected within a building's infrastructure. The interconnects (cables and connectors) have been a critical but often unaddressed challenge for solid state lighting designers.
For more information on any of these connectivity solutions, contact the TE Product Information Center at 1-800-522-6752 or visit www.te.com/TE-Light+Building.com.
NECTOR M, NECTOR S, LUMAWISE, CLOUDSPLITTER, TE Connectivity and the TE connectivity (logo) are trademarks of the TE Connectivity Ltd. family of companies. Other logos, product and/or Company names might be trademarks of their respective owners.
ABOUT TE CONNECTIVITY
TE Connectivity (NYSE: TEL) is a $13 billion world leader in connectivity. The company designs and manufactures products at the heart of electronic connections for the world's leading industries including automotive, energy and industrial, broadband communications, consumer devices, healthcare, and aerospace and defense. TE Connectivity's long-standing commitment to innovation and engineering excellence helps its customers solve the need for more energy efficiency, always-on communications and ever-increasing productivity. With nearly 90,000 employees in over 50 countries, TE Connectivity makes connections the world relies on to work flawlessly every day. To connect with the company, visit: www.te.com.


Contact:

Megan Brownrigg
+1-717- 986-7227

E-mail:

Web site: