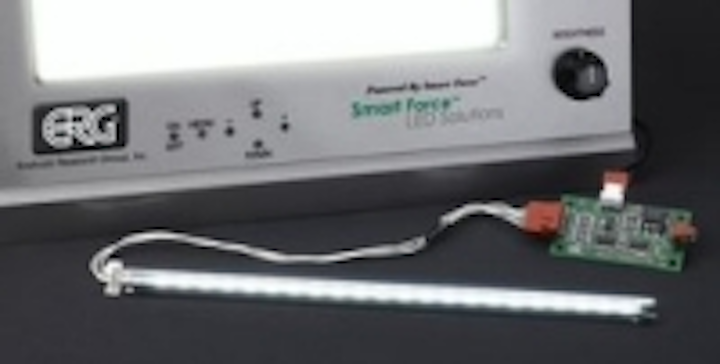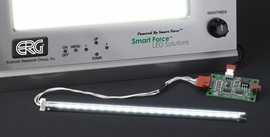 Date Announced: 19 Feb 2008
Endicott, NY – Endicott Research Group, the leading U.S. manufacturer of DC-AC inverters for powering CCFL and EL backlit LCDs, has introduced its new Smart Force™ family of LED driver solutions for high-bright LEDs (HBLEDs) used in a wide range of LCD backlighting applications.
Available as an LED driver board or a complete kit including driver board and LED rails, ERG's Smart Force™ LED Solutions provide the most compact, reliable, electrically efficient and lowest cost technology for driving HBLEDs to backlight LCDs from 6.4" to 20" diagonal and larger.
ERG driver boards employ a DC-DC boost to provide voltage to a constant current driver and LED rail. ERG can design driver boards with input voltages ranging from 5V up to 48V.
"What makes Smart Force™ LED Solutions unique is the small size of the driver boards
and the thermal management used to dissipate heat from the LED junction," said Bill Abbott,
- more -
ERG's Director of Sales & Marketing. "They're very easy to integrate and are extremely reliable."
ERG's Smart Force™ LED Solutions are offered as standard products with input voltages of 12V, 24V or 48 V, in single, dual or 3-channel versions, with custom designs readily available. They are extremely compact – ERG's LED driver board with 48V input voltage measures only 34 mm x 60 mm in size.
Exceptionally efficient thermal management gets the heat out of the LED rails and the display assembly, to ensure reliability for the increasingly stringent demands of many LCD applications. Standard features include separate enable/disable and PWM dimming controls. The PWM dimming control provides the high dimming ratios required by many of the more demanding LCD applications.
Pricing for ERG's Smart Forceä LED Solutions varies according to input voltage and number of channels. Pricing for a driver board with 12V input voltage is $24.99 in 1,000-piece quantities in the standard package. For details on pricing, contact ERG. Delivery is typically 4 weeks A.R.O.
Contact
Endicott Research Group (ERG), Inc Tel: 607-754-9187; (toll-free: 800-215-5866) Fax: 607-754-9255
E-mail:LED@ergpower.com
Web Site:www.ergpower.com