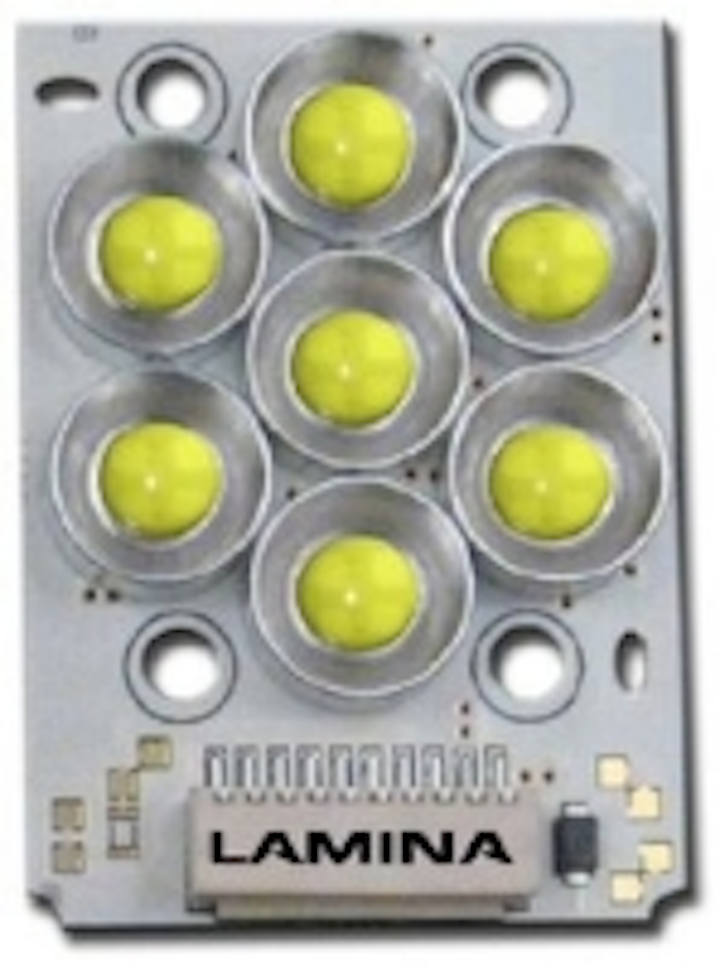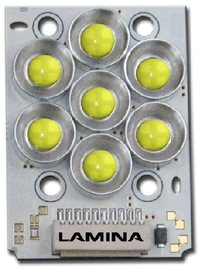 Date Announced: 28 May 2008
-- High-Efficacy Lamina Light Engines Deliver Up To 2000 Lumens and TruColor™ Feature; Ideal for Use in Next Generation of Lighting Fixtures
WESTAMPTON, NJ -- Lamina Lighting Incorporated (Lamina), the world leader in the development and manufacturer of high-power LED light engines, today announced it has launched a new line of high lumen output white LED products. The line, which includes the Lamina TitanTurbo TruColor™ White LED, delivers unprecedented light output – up to 2000 lumens – plus a unique "TruColor" feature which maintains the natural colors of an illuminated object, and the ability to focus light into a tight 60-degree cone angle. These features – in combination with Lamina's already unmatched thermal performance and compact footprint – make these light engines ideal for designers striving for high lumen output, accurate color rendering and focused light concentration.
"In the LED space, nobody is doing what Lamina does," said Joe Mazzochette, Vice President of Engineering for Lamina. "The TitanTurbo TruColor, as well as our other high lumen output white LEDs, are really in a class of their own when it comes to delivering the features today's lighting designers are looking for in performance and efficiency -- both in terms of lumen output, color accuracy, energy considerations, all in a very compact footprint – right out of the box."
The Lamina TitanTurbo "TruColor"
The Lamina TitanTurbo TruColor white LED packs an exciting new features into the same size unit as Lamina's standard Titan LED; delivering 55 lumens per watt at 1300 lumens of output, and can also reach the 2000 lumen output level using 45 lumens per watt – all in the same compact 1-inch-square footprint as the original Lamina TitanTurbo. And all secondary optics usable with the TitanTurbo can also be used with the TitanTurbo TruColor White LED.
The TruColor feature drives the LED's stellar performance in terms of color rendering, achieving a score of up to 90 on the Color Rendering Index (CRI), which measures of the ability of a light source to accurately reproduce the colors of various objects being lit by the source. The higher the CRI, the less likely the light source is to distort colors, as in the case of fluorescent lights which render a blue-ish, or cool, tint. TruColor makes the LED perfect for commercial applications where color accuracy of illuminated objects is important; retail spaces where food or fabric is sold, for example.
The Lamina TitanTurbo TruColor White LED's comparatively low color temperature of approximately 3000K means it produces light that is visually similar to that produced by conventional incandescent light sources. That makes this LED perfect for residential applications, as well.
Light output of the TitanTurbo TruColor White is pre-focused to a cone angle of 60 degrees, eliminating the need for the user to build secondary optics to focus the light, as might be the case with competitive units.
"It makes so much sense for people to be using these LEDs," said Mazzochette. "They're saving roughly 60% of the energy they would be using with an incandescent light source, and with the 60-degree cone angle, they're only putting light where it's needed, reducing energy consumption in that aspect, as well."
More in the Lamina High Output White LED Line
Lamina's line of high output white LEDs also includes the Daylight White version of the standard TitanTurbo, which delivers approximately 52 lumens per watt at 1443 lumens, the Warm White version of Lamina's SōL™, which delivers 32 lumens per watt at 245 lumens, and the Atlas Series of LED light engines, which deliver up to 51 lumens per watt at 250 lumens.
About Lamina
Lamina Lighting Incorporated (Lamina) defines the current state of LED lighting technology with continuous innovations in light output, efficacy and thermal management. Founded in 2001 as a spin-off from the Sarnoff Corporation, Lamina is at the forefront of global LED research and product development. With its Atlas™, Titan™ and SoL™ Series LED product lines, Lamina provides ultra-high brightness white LED lighting products that satisfy the growing global need to replace conventional lighting with LED technology for general illumination. Among its other benefits, Lamina's environmentally responsive LED technology and programs aid in lowering CO2 emissions-the dominant GHG contributor to global warming. Headquartered in Westampton, New Jersey, Lamina Lighting is funded by five premier technology venture funds. For more, visit www.laminalighting.com.
Contact
Dan Polito, Vice President of Marketing Lamina Lighting Incorporated Tel. 609 265 6802
E-mail:dpolito@laminalighting.com
Web Site:www.laminalighting.com