Elation's Event Panel Shows True Colors At Remy Martin Cognac Premiere
May 22nd, 2008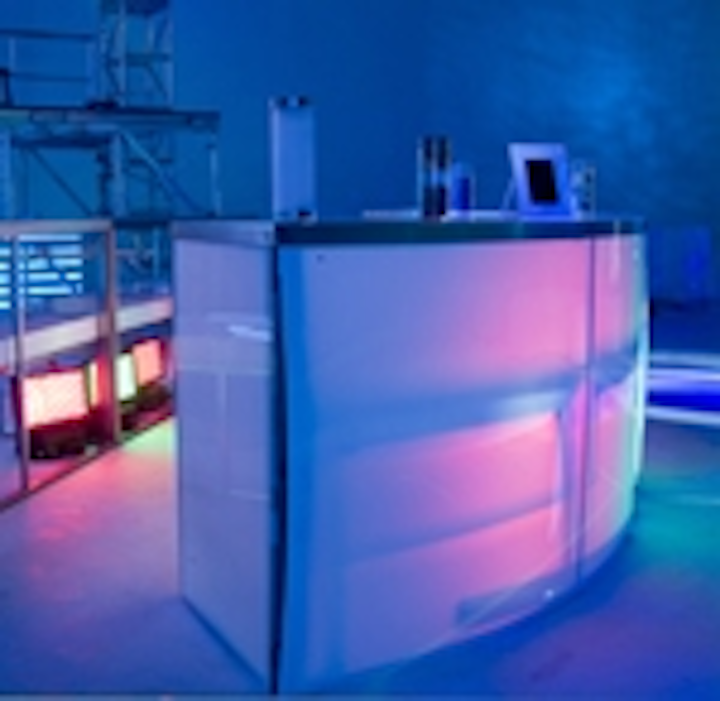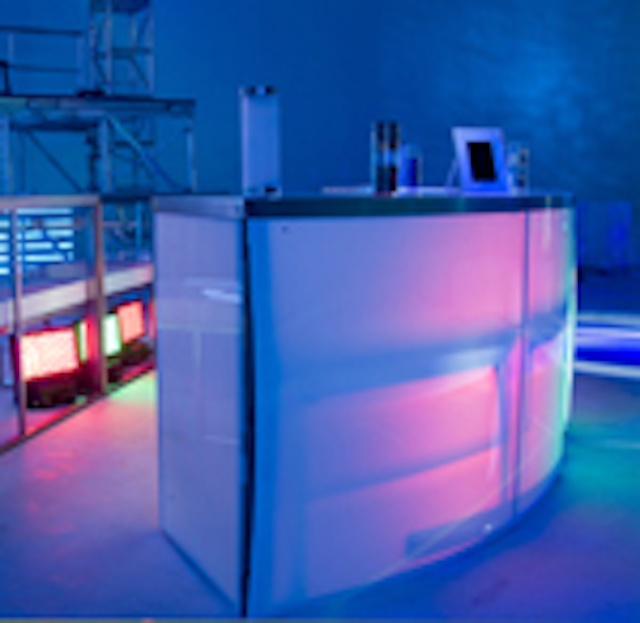 Date Announced: 22 May 2008
LOS ANGELES -- The debut of an extraordinary cognac calls for an extraordinary event to dramatize its unveiling. Cognac maker Remy Martin rolled out just such theatrics for the American launch of the David LaChapelle limited-edition V.S.O.P., inviting more than 300 guests to a party at Smashbox Studios in West Hollywood, CA.
Stunning sensory effects filled an all-white room, which served as a neutral backdrop for a brilliant multicolor light show, produced by Leslie Short of K.I.M. Media (New York, www.kim-media.com) with lighting, audio, video and scenic projection services by ShowPro (Los Angeles, www.showpro.net ).
Jim Gordon, Director of Marketing for ShowPro states, "Leslie had a vision on how she wanted to build the evening for the invited guests plus unveil and introduce the new cognac for Remy Martin. We really used many types of lighting and LED technology to provide many stunning looks throughout the evening." ShowPro was picked to technically produce the event and support Leslie Short's fantastic concept and vision because of their reputation for technically and creatively providing lighting and scenic projection for many such prestigious and high quality events.
The colors changed hourly to create a heightening sense of excitement, leading up to the cognac's introduction. Beginning with a green palette to complement the canopy of palm trees at the jungle-themed entranceway, the colors shifted to blue, then dramatic red for the revelation of the bottle. Finally, the space burst into multi-color jeweltones for the after-party. Even the cocktail bars were translucent to allow colored light to shine through them.
The tricky task of under-lighting the translucent bars to make them change colors – one of the room's most dazzling features – was accomplished with Elation Professional's new Event Panel System, a color-mixing LED panel that can run remotely via its own rechargeable battery pack without being plugged into an electrical outlet. Equipped with 288 10mm red, green and blue LEDs, the Event Panel can produce a limitless array of colors through additive RGB mixing.
A total of 12 Event Panels were positioned behind the bar counters, where they lit the clear opaque fixtures from underneath. "The idea was to bring focus to the bars by having their fascias glow and change color throughout the evening," said the event's lighting designer Matt Levesque of firstcircle (Newport Beach, CA, www.firstcircledesign.com ).
The Event Panel was chosen for the job, because of its cordless battery-powered operation, Levesque explained. "Power cords around bartenders' working areas can get a bit cumbersome and hazardous. These luminaires allowed us to achieve our desired effect without putting the equipment or bartenders at risk."
Featuring a 40° beam angle, the Event Panel has an output distance of 65'-85'. It can run for at least 10 hours at full-power continuous use without being connected to a power source. The compact panel sits on top of a battery-pack base, and comes with a 12V power supply for recharging the battery. The panel itself measures just 16.7"L x 10.3"W x 3.2"H and weighs only 7.7 lbs. The battery pack base measures 11.7"L x 11.6"W x 4.6"H and weighs 19.5 lbs. In addition to operating via battery power, the Event Panel can be connected to an electrical source with an AC cable from 100-240v and used independently without the base. The energy-efficient LED unit draws only 36 watts of power, and its long-life LED lamps are rated at 100,000 hours.
With its compactness, battery-powered operation, and seamless RGB variable fade rate color mixing, the Event Panel is ideal for bringing color to hard-to-light spaces, agreed David Smith of ShowPro. "The Event Panels seem to be the perfect solution for an event scenic designer who has to under-light tables/bars etc.," said Smith.
In addition to the Event Panel, another Elation fixture, the Power Spot 700 CMY-II – a 700W CMY color mixing DMX moving head – played a key role in welcoming the new Remy Martin V.S.O.P. Twenty-four Power Spot 700s filled the space with beams and gobo patterns that coordinated with the color themes produced by the LEDs. "The lighting, in general, served as our tool to transform the atmosphere from the initial mood of an evening cocktail party, to a theatrical stage performance, and finally to a hot night club," said Levesque. "The (Power Spot 700 CMY-II's) unlimited colors allowed us to create the three different tasks requested by our client: Cocktail Party, Performances and Night Club." The event environment was constantly changing, had a real defined flow to it and was very impactful and dramatic. A huge success for all involved!
Contact
For more information, call Elation Professional toll-free at 866-245-6726
E-mail:jan@fucinipro.com
Web Site:www.elationlighting.com