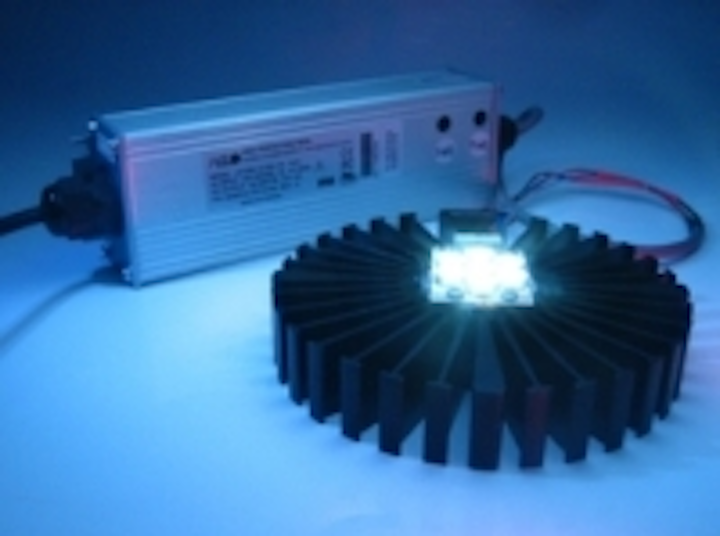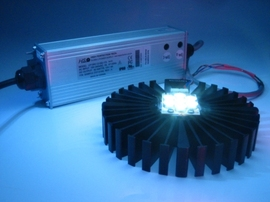 Date Announced: 19 May 2008
Ulverston, UK, 19 May 2008. Marl Optosource has today announced the addition of a range of high power LED drivers to complement Lamina's TitanTurbo™, believed to be one of the world's brightest LED light engine.
LED light engines can now match the luminosity of a 100W tungsten bulb – but this new generation of products imposes a much heavier load on the drive electronics.
Marl has therefore introduced a new solution capable of driving an LED drawing 5A at 12Vdc, and able to withstand an input inrush current of up to 40A. The units are IP54 certified and UL1310 Class 2 recognised, and are thus equally suitable for outdoor and other locations where they may be exposed to moisture, as for more benign indoor environments.
The drivers are the ideal complement to the new Lamina TitanTurbo™, distributed in the UK by Marl Optosource. These are the first LED lights to match a 100W tungsten lamp, and are designed to replace the popular R-20 flood lights. Marl offers the TitanTurbo™ in 2 models – a 3000 K "warm white" version equal in light output to a 75-watt halogen PAR-30 or a 100-watt R-20 flood light; and a 4700 K "daylight white" (cool) model twice as bright.
Delivering more than 2,000 lumens in daylight white and more than 1,000 lumens in warm white light, TitanTurbo™ LED light engines offer unsurpassed performance for all general lighting applications. The TitanTurbo™ Warm White has an enhanced red and orange colour spectrum that makes it ideal as a halogen or incandescent replacement.
Marl Optosource complements its range of Lamina high power LEDs with a comprehensive range of accessories. In addition to the drive electronics, Marl Optosource offers lenses to enhance optical performance, heat sinks to maximise service life and compatible interconnect solutions.
About Optosource
Marl Optosource is one of the UK's leading distributors of LED components. Optosource offers privileged access to the product portfolios of the world's leading optoelectronic manufacturers, and can offer a complete one-stop solution to any visible opto electronic component requirement. The new website contains a detailed database on all LED components and accessories including heatsinks, drivers and lenses. Please visit: www.optosource.com.
About Marl
Marl has specialised in the design and manufacture of visible LED indication and illumination components and systems for over 35 years, to customers in the electronic, power generation, defence and telecommunications industries. Its highly trained and experienced team of over 80 design and manufacturing specialists operate from a dedicated technology park in Ulverston, England and stand ready to offer its customers a solution to any requirement. They are able to offer a range of standard products, customised to suit individual projects, or even design a specific component from scratch. Marl is a quality company. It is registered to BS EN ISO 9001:2000 standard and fully RoHS and WEEE compliant.
Photo caption: Marl Optosource has added one of the world's most powerful LED drivers to its range; Lamina's TitanTurbo™
q1028ml
Contact
Marl International Limited, Marl Business Park, Ulverston, Cumbria. LA12 9BN, UK. Tel: +44 (0)1229 582430 Fax: +44 (0)1229 585155
E-mail:marketing@marl.co.uk
Web Site:www.marlopto.com