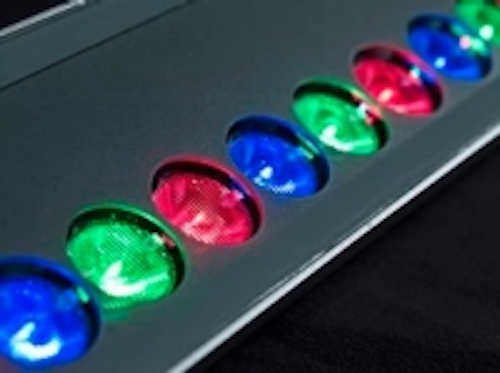 Date Announced: 21 May 2008
News Release
For Immediate Release
Contact:
Kim McAdams
Solid State Luminaires
(877) SSL-GREEN; kim@solidstateluminaires.com
Powerful Solid State Performance – Full Color Capability
ST. CHARLES, IL— May 21, 2008: Solid State Luminaires announces the release of the Extremeline 200 Series, delivering the same powerful optical projector package and low profile housing as its white light Extremeline Series, with the added effect of RGB color mixing. Available in 120 x 120, or ellipsoidal 120 x 500 beam distributions, in 12" to 46" lengths, all IP65 rated. Controllable using DMX512 protocol, these luminaires are easily integrated into a wide range of lighting themes.
"The Extremeline 200 Series provides the capacity to generate millions of colors, with the intensity and control necessary to illuminate architectural features, surfaces, and structures," said FC's President, Bruce Bukas. "The strong optical performance of the Extremeline 200 Series projects color onto surfaces with intensity and control necessary for attaining strong façade and architectural surface lighting impact."
About Solid State Luminaires: To create the next generation of LED technology, Solid State Luminaires invested three years of exhaustive research, built a network of worldwide partners and utilizes the best technology available in the market. The result is high-end, environmentally conscientious products, bottom line value and guaranteed peace of mind. Solid State Luminaires backs its products with a 5 year limited warranty. Headquartered in St. Charles, Illinois, the company distributes its products globally. For further information about Solid State Luminaires and its rapidly growing line of leading edge lighting products, call 877-SSL-GREEN or visit the company's web site at www.solidstateluminaires.com
Contact
June Heffron Marketing Coordinator FC Lighting 3609 Swenson Avenue St. Charles, IL 60174 630-889-8100
E-mail:jheffron@fclighting.com
Web Site:www.solidstateluminaires.com