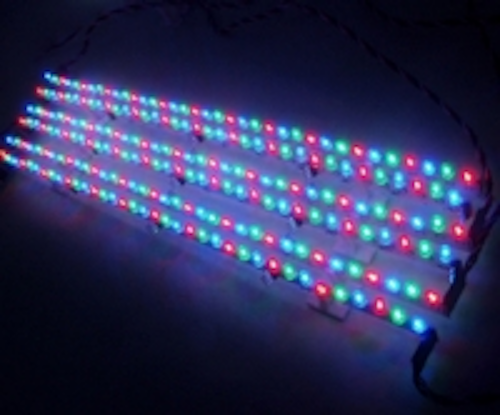 Date Announced: 12 May 2008
ATG Electronics® iSignage™ 36T RGB LED Flex Strip is a RGB flexible, cuttable and slim device designed especially for signage lighting and replace conventional neon signs.
iSignage™ 36T adopts high intensity LEDs to operate at 12VDC (safe to humans). It can be joined together via 4-pin power cable, and cut at every 9LEDs to fit different spaces. The slim profile, wide beam angle and small color mixing distance (10cm~15cm or 4"~6") direct the light distribution to the surface of the channel letters, and produce even color.
iSignage™ 36T can work with related RGB controllers (DynColor™ 300-FS, QColor™ 310-FS and QColor™ 020-FS) and produce vivid color changing effects. Power Supplies are available in normal and waterproof versions for indoor and outdoor signs. One meter (3.3 feet) 4-pin power cable can be provided for cases there is big space between power supply and channel letters.
iSignage™ 36T has been successfully installed to light up thousands of channel letters worldwide; besides it can also be used for cove lighting.
Features & Benefits:
-More than 30 color changing patterns available from intelligent DMX control system;
-High brightness with high intensity LEDs at lower cost;
-Flexible, cuttable and compact size for narrow or curving space;
-Easy to install and connect with mounting clips and signal connectors;
-Moisture, humidity and short-circuit resistant with tape on the back of PCB;
-Safe and stable with low voltage;
-Energy saving with low power consumption;
-Green and eco-friendly lighting source.
Recommended Applications:
-Signage lighting (channel letter lighting, symbol lighting) for shops, stores, hotels, restaurants, cinemas, theatres, bars and clubs etc;
-Decoration lighting (cove lighting, back lighting, display lighting etc) for your homes, shops, stores, hotels, restaurants, cinemas, theatres, bars and clubs, etc.
About ATG Electronics
ATG Electronics established in 1999 and formed partnerships with companies in California, designs, produces, distributes and licenses lighting emitting diode (LED) controllable digital decoration and illumination lighting systems, including
eLucent™ LED XPower Lamps, iBright™ LED Fluorescent Lights for illumination lighting;
iVision-V™ and oVision-V™ LED Screens for advertising lighting;
iLinear™ LED Ribbon Strips, iSignage™ LED Flex Strips and oSignage™ LED Modules for signage lighting;
Smart™ LED Wall Washers, UniQ™ LED Border Lights and Infinity™ LED Rope Lights for architectural lighting;
and power/control systems and software.
Contact
ATG Electronics Corp. ---Think Green, Act Green. International Sales Department Tel: +86-21-33932667 Fax: +86-21-33932677
E-mail:sales@atgelectronics.com
Web Site:www.atgelectronics.com