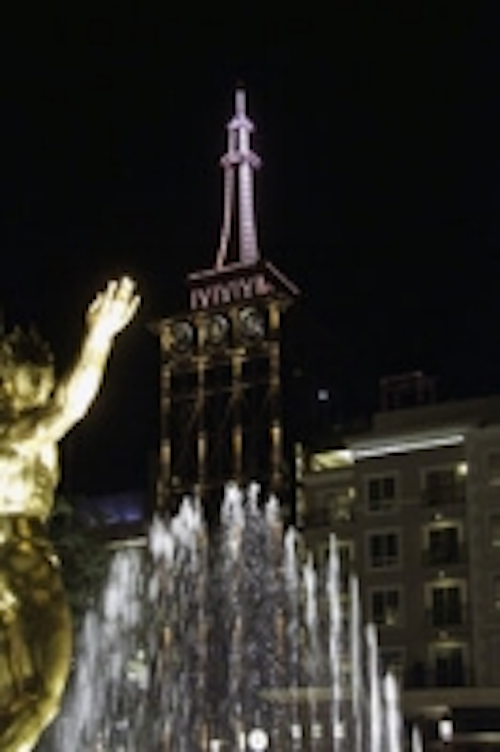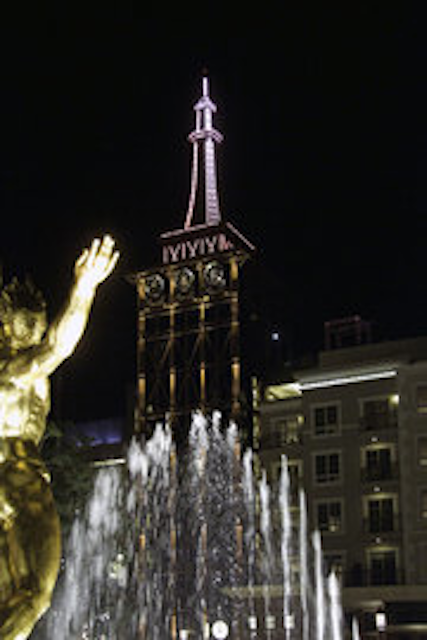 Date Announced: 08 May 2008
GLENDALE, Calif. – May 8, 2008 —With its on-going dedication to product research and development, Daktronics Inc. (NASDAQ-DAKT) of Brookings, S.D., proudly announced the first ProPixel® video stick element installation at The Americana at Brand, Glendale, California. The Caruso Affiliated mixed-use, residential and retail development features a vibrant blend of shopping, dining and entertainment with creative residential living in a beautiful park-like setting.
Positioned on the spire of the projects main elevator tower overlooking The Americana at Brand central courtyard, the inaugural ProPixel® stick display covers the exterior of a steel-beamed spire designed by Boston-based Elkus/Manfredi Architects. The new ProPixel® display establishes a visual landmark at The Americana at Brand and demonstrates the product's extreme versatility to wrap structures of any shape or size.
ProPixel® freeform video components can be set at specific intervals along the length of a structure to provide architects the perfect solution when long, thin lines of pixels are desired.
"People are awestruck by how beautiful and elegant the spire looks," said Aaron Haas, Director of Project Management for Caruso Affiliated. "We needed something that would highlight the steel structure of our tower and the Daktronics product fit extremely well. The engineering and management team at Daktronics was phenomenal with how they persevered throughout the process and should be commended for their hard work," said Haas.
Daktronics' extensive video experience and years of product research and development played an integral part in bringing this innovative product to The Americana at Brand. ProPixel® video sticks recently expanded the Daktronics ProPixel® product line and use Atlas™ pixel mapping, which provides the highest possible image integrity across uneven and curved surfaces such as The Americana at Brand spire. Each pixel connects to its own, individual address, so each one is uniquely programmable on The Americana at Brand spire, which adds aesthetic value to the eye-catching color changes and washes currently featured. Further, the ProPixel® content on the spire will be synchronized with a lavish water fountain located below the display in The Americana at Brand central park. Daktronics Echo™ environmental integration flawlessly blends the elements with a rustic appearance onto the steel spire's eclectic architectural construction.
The Americana at Brand has been deemed the next generation retail, residential, dining, and entertainment resort, featuring high-end shopping, dining and hundreds of residential units located directly in the heart of downtown Glendale. Caruso's in-house architecture team worked with Elkus/Manfredi Architects and Harley Ellis Devereaux on the project's design, which combines a mix of styles indigenous to Glendale and southern California. The upscale retail offering includes unique concept stores and first-to-the-region locations, transforming downtown Glendale into one of the most exciting places to shop in the Los Angeles area.
Specifically designed to sculpt video in thrilling ways, Daktronics ProPixel® freeform elements are perfect for media facades, unconventional shapes and other architectural applications. Daktronics ProPixel® pucks are ideal for large scale displays requiring curved shapes in multiple dimensions such as sphere and domes. The installation of ProPixel® pucks at Grand Lisboa Casino sphere in Macau, China in 2007, illustrates Daktronics extensive experience and commitment to large, complex video projects.
About Daktronics
Daktronics has strong leadership positions in, and is the world's largest supplier of, computer-programmable displays, large screen video displays, digital billboards, and electronic scoreboards and control systems. The company excels in the control of large display systems, including those that require integration of multiple complex displays showing real-time information, graphics, animation and video. Daktronics designs, manufactures, markets and services display systems for customers around the world, in sport, business and transportation applications. For more information, visit the company's World Wide Web site at: www.daktronics.com/spectaculars or e-mail the company at commercial@daktronics.com, call (605) 692-0200 ext. 56219 or toll-free (800) 325-8766 in the United States or write to the company at 201 Daktronics Drive PO Box 5128 Brookings, S.D. 57006-5128.
About Americana at Brand
The Americana at Brand, Caruso Affiliated's first mixed-use development, will feature a vibrant blend of shopping, dining and entertainment with creative residential living in a beautiful park-like setting. The project will occupy 16 acres and feature approximately 475,000 square feet of retail/commercial space, including 100 luxury condominiums and 238 apartment homes in the heart of downtown Glendale.
At its heart, The Americana at Brand will feature a grand two-acre park complimented by fountains, public art, and generous open space. Promenades, meandering walkways and open-air plazas will invite guests to shop, stroll, dine outdoors, and just enjoy the beauty of the setting with family and friends. Visit AmericanaAtBrand.com for more information.
Contact
MEDIA RELATIONS: Julia Angerhofer, Commercial Marketing tel (605) 692-0200 ext. 56779 e-mail jangerh@daktronics.com ADDITIONAL CONTACT: Ed Wasserman, California Regional Manager tel (818) 999-5159 e-mail ewasser@daktronics.com
E-mail:tcampbe@daktronics.com
Web Site:www.daktronics.com