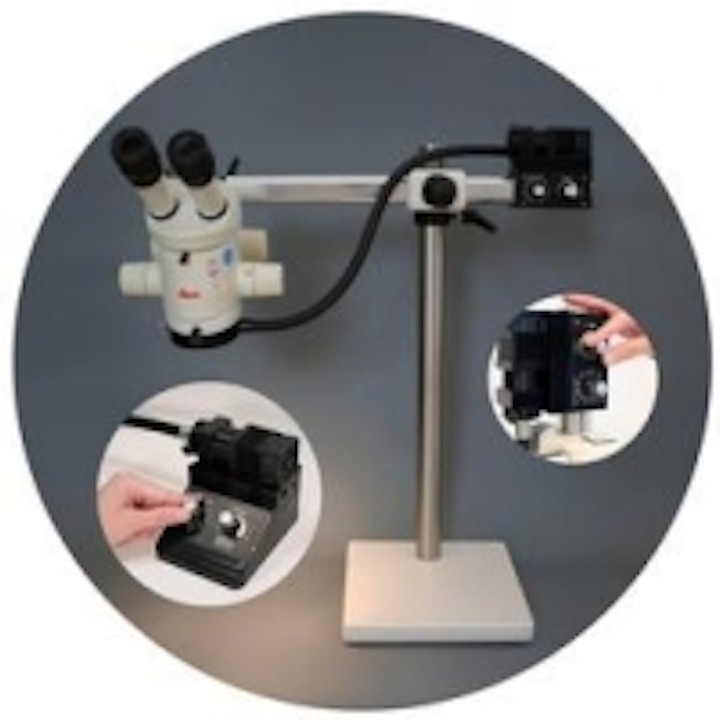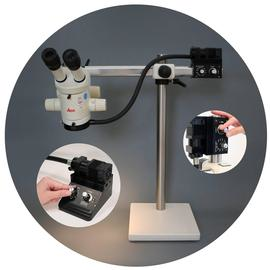 Date Announced: 06 May 2008
RICHMOND, CA – May 5, 2008 - DiCon Fiberoptics' Solid State Lighting Business Unit introduces the Tunable LED Microscope Illuminator, its newest product in a family of LED Illuminators. The Microscope Illuminator offers a reliable, compact solution for microscopy applications. Its compact form is roughly one quarter to one third the size of other Fiberoptic Illuminators, and its flexible orientation options make it possible to mount it directly onto the microscope stand, or to use it as a bench-top light source.
The Illuminator offers a unique tunable range of white color temperatures, from warm white (2700K) to cool white (7500K) with high color rendering (CRI> 90) across the entire range. A second multicolor (RGB) model provides single-wavelength light in the red, green and blue regions, as well as three white light color temperature settings, to accent special surface effects on samples without the use of color filters.
"These extremely smart and compact illuminators, that you can literally hold in your hand, bring unprecedented flexibility to the microscopy industry with their multicolor capabilities and color-temperature tuning feature," says Bruce Kuhlmann, Director of Global Sales.
With the long lifetimes and low power consumption that is typical of LED light sources, the Microscope Illuminator offers a reliable, environmentally-friendly, and economical alternative to halogen and other incandescent lighting solutions.
DiCon Fiberoptics, Inc. Solid State Lighting Business Unit develops and manufactures LED products for decorative, architectural, and machine vision applications. The Lighting Business leverages Dicon's 22 years of manufacturing excellence as one of the largest suppliers of innovative, high quality optical components, integrated modules, and test equipment for the optical networking industry, and applies this knowledge and engineering expertise to the exciting world of LED Lighting.
Contact
DiCon Fiberoptics, Inc. 1689 Regatta Blvd. Richmond, CA 94804 Tel: 510-620-5250 or 510-620-5000 Fax: 510-620-4102
E-mail:sales@diconlighting.com
Web Site:www.diconlighting.com