Wide viewing angle added to Marl Indicator range
Apr 16th, 2008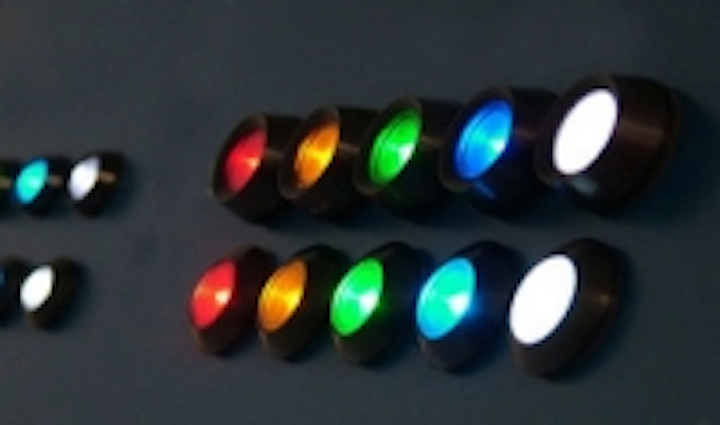 Date Announced: 16 Apr 2008
Ulverston, UK, 16 April 2008. Marl has extended its stylish new panel indicator range with new wide angle models, offering a 180 degree viewing angle top to bottom and left to right. Marl's new panel indicator LEDs are not only up to 25% more energy efficient, but are also bi-polar, and can be driven from a wide voltage band.
Marl's new wide viewing angle LEDs will operate from 12-28V with minimal variation in brightness making them ideal for battery powered systems and other applications where input voltage is subject to wide variations. They are also insensitive to the polarity of the incoming power supply, and highly energy efficient, drawing just 8mA from a 12V supply. This is around 25% less than existing versions at the same brightness. They also benefit from new, modern styling.
Both standard and wide-angle Marl panel indicator LEDs are available in 8.1mm and 12.7mm sizes in brass, anodised aluminium and stainless steel versions. Marl is offering a range of five colours: red, yellow, green, blue and cold white. Standard versions offer a 120 degree viewing angle, compared to 180 degree for the wide angle models. All are a plug-in replacement for existing Marl and other LED panel indicators.
About Marl
Marl has specialised in the design and manufacture of visible LED indication and illumination components and systems for over 35 years, to customers in the electronic, power generation, defence and telecommunications industries. Its highly trained and experienced team of over 80 design and manufacturing specialists operate from a dedicated technology park in Ulverston, England and stand ready to offer its customers a solution to any requirement. They are able to offer a range of standard products, customised to suit individual projects, or even design a specific component from scratch. Marl is a quality company. It is registered to BS EN ISO 9001:2000 standard and fully RoHS and WEEE compliant.
Photo caption: Marl's new range of panel indicators have a wide viewing angle, are up to 25% more energy efficient and are also bi-polar.
q1136ml
Contact
For more information, please contact: Marl International Limited, Marl Business Park, Ulverston, Cumbria. LA12 9BN, UK. Tel: +44 (0)1229 582430; Fax: +44 (0)1229 585155; Email: marketing@marl.co.uk; Website: www.marl.co.uk Press Contact: Peter van der Sluijs Neesham Public Relations Tel: +44 (0) 1296 628180 Email: peterv@neesham.co.uk
E-mail:elaineh@neesham.co.uk
Web Site:www.marl.co.uk