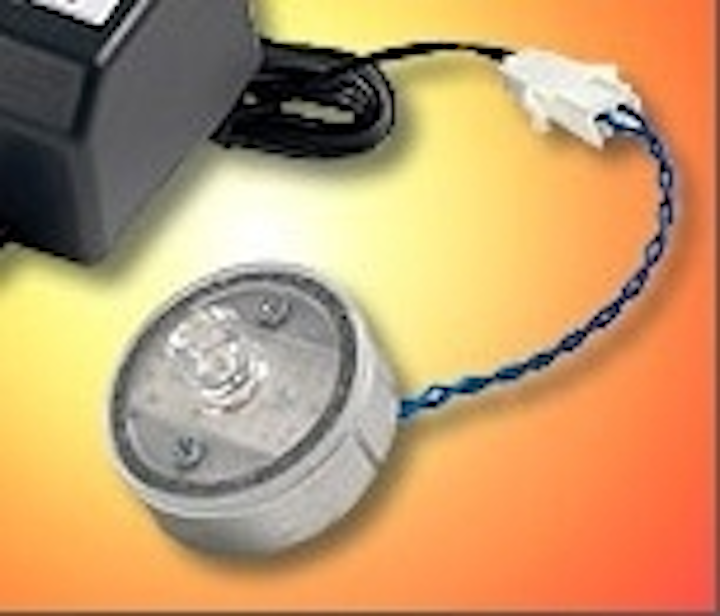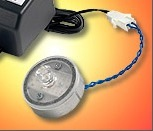 Date Announced: 15 Apr 2008
New Turnkey LED-Based General Illumination Product Delivers up to
5X Power Savings Over Conventional Bulbs
Nu Horizons Electronics Corp. (NASDAQ: NUHC), a leading global distributor of advanced technology semiconductor, display, illumination, power and system solutions; today announced the availability of the ULE2210A LED Universal Light Engine™ platform from OptoElectronix, Inc., a leading general illumination and custom LED product supplier. Taking a giant step towards providing a bridge from the LED supplier to the lighting fixture designer, OptoElectronix is now manufacturing the first in a series of general illumination products to be based on their 40mm circular light platform. The platform is ideal for landscape, safety & security, vehicle and general-purpose lighting applications and is available exclusively through Nu Horizons' Nu Solutions Network.
The OptoElectronix™ ULE2210A features a warm white LED with an integrated switching power supply for 12VAC or 12VDC operation and integrated optics. In addition, the highly efficient thermal network utilizes an aluminum heat spreader and heat sink, which ensures maximum LED life. The thermal path extends into the lamp fixture as the ULE2210A threads directly into an industry-standard 1/8" IPS light fixture. The result is a turnkey solution consisting of a solid-state LED light "bulb" that the designer can place directly into an application.
The ULE2210A has a light output of 50 lumens at the nominal operating current of 500 mA. In terms of power, it is over five times more efficient than an incandescent bulb and over 50 percent more efficient than a CFL. The ULE2210A will nominally run at 1.5 Watts and output 50 lumens while the incandescent will output 12-15 lumens at the same wattage with no optics.
With the proper design, an LED will typically last as long as the application it is used in, generate far less heat, and use far less power than other lighting solutions. Due to savings in energy used, as well as reduction or elimination of re-bulbing costs, the LED solution, while more expensive than an incandescent bulb, usually has a rapid payback based on the life of the application.
"LED lighting provides energy savings and design flexibility not possible with traditional lighting technologies," said Chuck Berghoff, president and CEO, OptoElectronix. "This product makes it easy for lighting designers to adapt all the advantages of this exciting new "green" technology, enabling their end users of LED-based general illumination products to enjoy the unparalleled benefits of lighting control, energy savings, long life and the resultant reduction in total cost of ownership."
"We're very excited about adding this and future high-quality OptoElectronix products to our Nu Solutions Network," said Rita Megling, senior vice president of marketing for Nu Horizons. "It's one more step in helping our customers quickly and efficiently adopt LED lighting technology."
Upcoming Lens Options
In the future, the ULE2000 Series will include additional lens types that direct the light in a variety of ways. Some lens types to be offered include flood, spot, mushroom and cylindrical. The series will also expand to accommodate 120VAC operation. The platform allows a wide variety of LED colors as well as LEDs from major manufacturers.
Availability
The ULE2210A LED light engine is now in stock and available exclusively at Nu Horizons Electronics, through their Nu Solutions Network, www.nuhorizons.com/NuSolutions/lighting/OEI A sample kit, which includes one ULE2210A plus a 120VAC converter, is also available thru Nu Horizons.
The data sheet for the ULE2210A is available for downloading from the OptoElectronix web
site at www.optoelectronix.com/led-products.html.
About OptoElectronix, Inc.
OptoElectronix, Inc. provides general illumination lighting and custom LED products to optimize light output, power efficiency, product quality, reliability, and cost. Our global team has nearly 30 years of experience designing and manufacturing LED products for market leaders throughout the consumer, communication, industrial and medical industries. OptoElectronix is the only optoelectronics systems integrator who can deliver all of the following:
In-house lighting system design expertise
Design for manufacture (DFM) expertise
In-house manufacturing
Broad sales channel for local support
OptoElectronix fills the gap in system knowledge that exists between LED component suppliers and OEMs who need cutting-edge, in-demand, environmentally friendly general illumination products.
OptoElectronix is a member of the Nu Solutions Network lighting solutions group. For further information, please visit: www.nuhorizons.com/nusolutions/lighting.
About Nu Solutions Network
Nu Horizons understands the complexity of designing with today's leading edge technology. In order to reduce development cycles and enable customers to quickly and efficiently adopt new technology, Nu Horizons works with a variety of third parties whose products include evaluation and development boards, development tools, intellectual property, and ready to use modules. Collectively, these third parties constitute the Nu Solutions Network.
About Nu Horizons Electronics Corp.
Nu Horizons Electronics Corp. is a leading global distributor of advanced technology semiconductor, display, illumination, power and system solutions to a wide variety of commercial original equipment manufacturers (OEMs) and electronic manufacturing services providers (EMS). With sales facilities in 52 locations across North America, Europe and Asia and regional logistics centers throughout the globe, Nu Horizons partners with a limited number of best-in-class suppliers to provide in-depth product development, custom logistics and life-cycle support to its customers.
###
OptoElectronix and Universal Light Engine are trademarks of OptoElectronix, Inc. Other company and product names may be trademarks of their respective owners.
Contact
Nu Horizons Electronics Corp. 70 Maxess Road Melville, NY 11747 Phone: (631) 396-5000 Fax: (631) 396-5050
E-mail:rmegling@nuhorizons.com
Web Site:www.nuhorizons.com