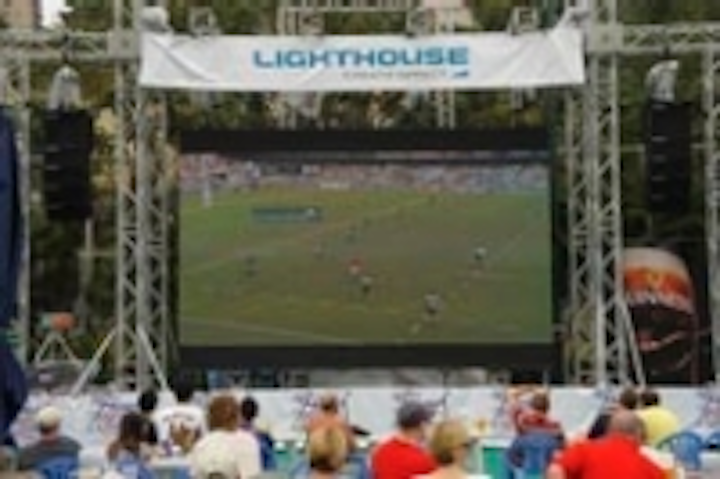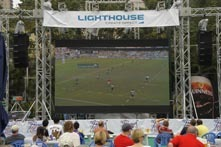 Date Announced: 11 Apr 2008
Having won the first four tournaments of the 2008 International Rugby Board (IRB) Sevens World Series, the famously black-clad New Zealand team were the hot favourite to complete a fifth tournament victory at the Cathay Pacific/Credit Suisse Hong Kong Sevens. And so it proved that Lighthouse, the official LED screen supplier, had once again made a winning contribution to the event.
Held from 28-30 March 2008 in the Hong Kong Stadium, New Zealand beat South Africa 19-14 in a thrilling final, extending the team's record winning streak to a remarkable 42 matches in the process.
2008 was the fourth year in succession for Lighthouse being chosen as the official LED screen supplier for the event, providing its industry-leading R16i/o-II 16mm LED screens in the official Sevens Village and the North Stand of the Hong Kong Stadium.
The stadium screen comprised 7 x 7 panels (7.11m x 5.33m) while the Sevens Village screen measured 7 x 6 panels (7.11m x 4.57m), both being controlled with Lighthouse LIP-KX units.
Located adjacent to the main stadium, the Sevens Village is a complimentary venue where rugby fans can relax and watch the live rugby on the LED screen. Those who are unable to obtain tickets to the stadium can still enjoy the action in close proximity.
In use from 7am to 11pm, the screen also served as the media to provide a wide range of entertainment for the fans, who are keen to thoroughly enjoy themselves throughout the three-day tournament.
The sponsoring for the Sevens Village is facilitated by a UK company Show Time Media, which provides content for the Village screen. The company has specified a Lighthouse screen as the central feature since it was inaugurated in 2005.
"As Lighthouse is high-end LED screen manufacturer which its headquarters in Hong Kong, it is the perfect fit," says Scott Taylor, Commercial Director of Show Time Media. "Lighthouse has fantastic products and its team are great people to work with. We immediately struck up a great relationship with them, which we are sure will continue for many years to come."
Following the first year success of the Village screen, the stadium screen has been a fixture of the event since 2006 and shows live footage and sponsor material to the sell-out stadium crowd at each match.
"The LED screens are an intrinsic part of the Sevens experience, both inside and outside of the ground," says Warrick Dent, sevens and commercial manager of the Hong Kong Rugby Football Union (HKRFU). "The screens supplied by Lighthouse are state-of-the-art, combining with the first-class service. We are very pleased with the partnership we have formed."
"Being part of such a prestigious event is very rewarding for Lighthouse," adds Peter Chan, Lighthouse's general manager, business development. "And with the R16i/o-II screen's superior resolution, brightness, colour uniformity and weatherproofing being ideal for this kind of large-scale outdoor applications, the Sevens fans are guaranteed not to miss a single moment of the action, whatever the weather."
Contact
Sarah James, Gasoline Media Limited, 9 Dalmore Avenue Claygate Surrey KT10 0HQ England. E-mail: info@gasolinemedia.com Phone: +44 (0)1372 471472 Pilva Kwan/Anita Leung Lighthouse Technologies Limited, 6/F, No. 16 Science Park East Avenue, Hong Kong Science Park, Shatin, N.T., Hong Kong. Tel: 852 2192 1688 Fax: 852 2423 1062 E-mail: info@lighthouse-tech.com
E-mail:sarahj@gasolinemedia.com
Web Site:www.lighthouse-tech.com