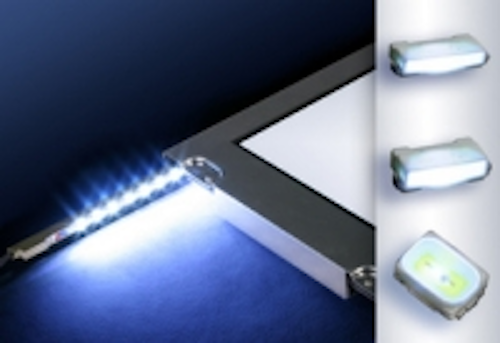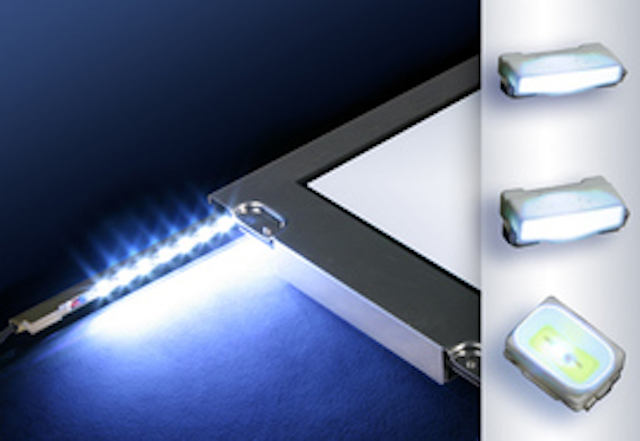 Date Announced: 24 Apr 2008
PACOIMA, CA (April 23, 2008) -- JKL Components Corporation, a California based lighting technology provider, introduces a new series of SMD LEDs. The LEDs yield up to 1900 mcd, offer a 120° viewing angle and offer crisp, clear bright white output, ideal for display backlighting. Available in top view or right angle projection these low profile LEDs are excellent for use in backlight units for liquid crystal displays.
The LEDs are available on reels for automatic placement to printed circuit boards for matrix lighting, rails for LCD lighting or rear and edge illuminated signage. PCB assemblies for backlighting can be supplied using a variety of components for color matching, brightness uniformity and performance. Submit your design needs to JKL engineering. The LEDs are reliable and dependable in extreme environments and offer a low-cost, long-life solution to designers seeking LCD enhancement or CCFL replacement options.
JKL Components Corporation offers solutions that encompass a wide variety of lighting technologies, including LED, fluorescent, ultraviolet, incandescent, and gas-filled lighting. JKL is registered ISO-9001.
Contact
Sherry Carpenter, Sales Manager 13343 Paxton Street, Pacoima, CA 91331 Telephone (818) 896-0019 Fax (818) 897-3056
E-mail:sales@jkllamps.com
Web Site:www.jkllamps.com