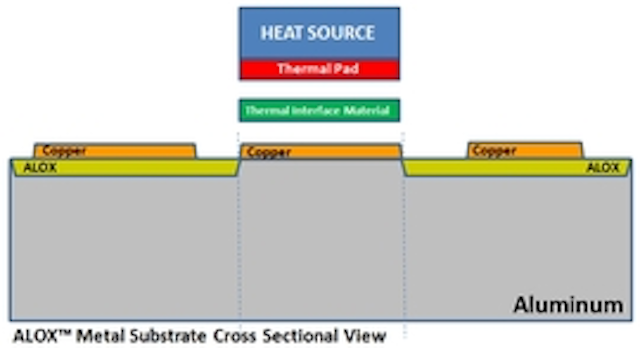 Date Announced: 29 Apr 2008
MCPCB with efficient in-plane and through-plane thermal conductivities are important for the high power LEDs. Though the stack-up structure looks the same, MCPCB performance is dependent upon the thermal pad area, interlayer material thickness,thermal conductivity of each material layer and how they are fabricated.
The traditional laminated MCPCB uses adhesive system with low adhesive Tg to glue the different layers together. This lamination fabrication approach adds thermal resistance to the overall stack up structure. The dielectric layer is sandwiched between the copper and the metal base for both the thermal and electrical pad areas. Electrically isolated thermal pad experienced the same thermal resistance in the thermal path.
DSEM recently launches selective insulation MCPCB which direct heat path for LEDs with electrically insulated thermal pad for Rebel, Nichia Gaia and Cree X-lamp. With the same thermal pad foot print, DSEM patented technology offers about 6X lower thermal resistance as compared to the traditional MCPCB.
DSEM MCPCB is superior as compared to PTH vias FR4 based PCB. The metal base is important for thermal spreading and provides bigger surface contact area to the external heat sink.
DSEM has started shipping. You can visit www.dsem.com for more information.
Contact
KK Tan DSEM Systems Technology Sdn Bhd Plot 26, Phase 4, Free Industrial Zone, Hilir Sungai Keluang 3, Bayan Lepas, Penang, 11900, Malaysia
E-mail:kktan@dsem.com
Web Site:www.dsem.com