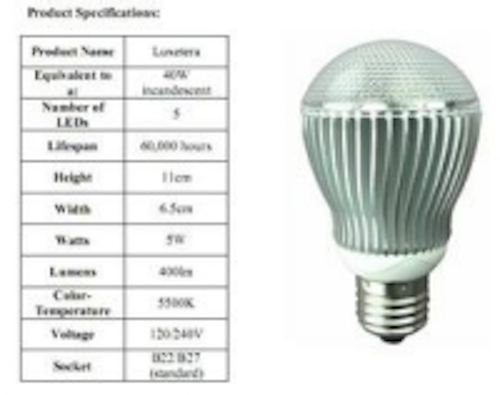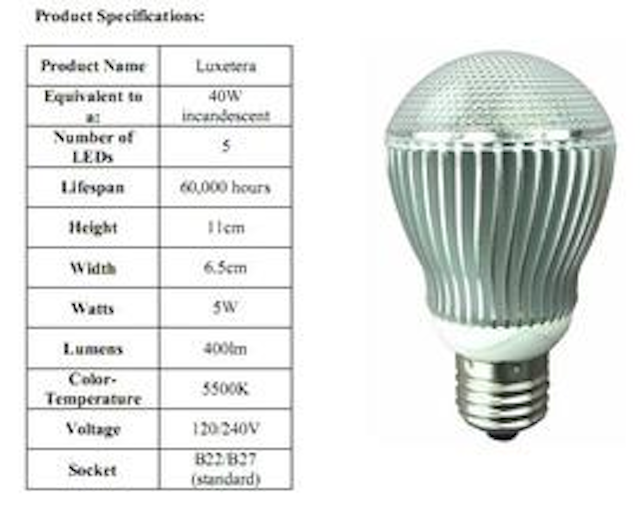 Date Announced: 11 Apr 2008
Atlanta, GA. USA, April 11, 2008 - WeLoveLEDsTM has released a new LED light bulb, the Luxetera. This bulb belongs to the next generation of LED lighting, which is characterized by the combination of high quality, high brightness, extreme efficiency and affordability.
Designed with Seoul LEDs, the Luxetera houses 5 bright white LEDs, and achieves an efficiency of 80 Lumens per Watt, which is eight times more efficient than incandescent lighting and twice as efficient as compact fluorescent light bulbs. Pre-Luxetera consumer grade LED bulbs have generally achieved plug-to-bulb efficiencies of 30lm/W.
In addition to quality, the Luxetera is distinguished by its affordability; it retails at $44.95, or about half the price of most high end LED light bulbs.
"We realized we had a winning proposition when we discovered that we could make a brighter LED bulb that could be sold at a fraction of the price," explains WeLoveLEDs Director of Research and Development, Marcus Strong. "We're trying to provide a bulb that can be genuinely useful for all sorts of applications, and one that has a low enough up-front cost that most Americans can afford to invest in one."
With a lifespan of 60,000 hours, the Luxetera will literally last for decades, resulting in massive energy savings and lowered residential electric bills.
Arguably, the most important aspect of LED lighting technology is its potential to "green" home lighting. Of our nation's electrical supply, 22% is used for illumination. The demands of producing that quantity of energy are well known; dependence on foreign energy reserves, emissions of toxic mercury from coal fired power plants, and of course carbon dioxide emissions.
High efficiency LED lighting offers the best alternative to energy wasting incandescent bulbs. In fact, replacing a single 40W incandescent bulb with a 5W Luxetera bulb prevents the emission of over 1.7 tons of carbon dioxide over the life of the bulb. Unlike fluorescent lights, LEDs contain no mercury.
The Luxetera has been approved for indoors and outdoors use, and is compatible with existing Edison (standard) bulb sockets. A high quality aluminum base provides heat exchange and extreme durability; the Luxetera is both vibration and shock resistant. The Luxetera can be purchased online at http://www.weloveleds.com, and comes with a 2 year warranty, as detailed on the website.
Contact
David Ketz, Director of Media Relations 1579 Monroe Dr, Ste F-829, Atlanta, GA 30324
E-mail:info@weloveleds.com
Web Site:www.weloveleds.com