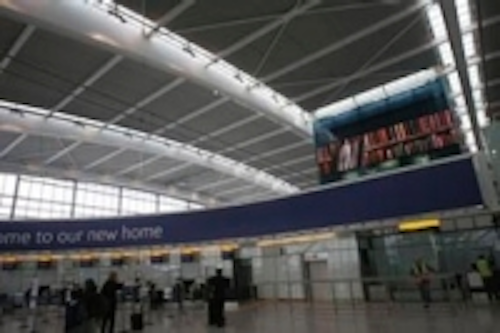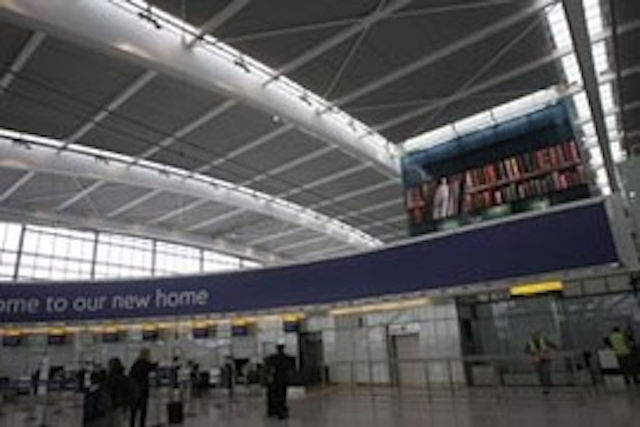 Date Announced: 30 Apr 2008
UK, April 29 2008 -- With 67 million passengers using London's Heathrow Airport annually, it has taken over six years for the long awaited fifth terminal to be built. And air passengers using the new terminal, opened by The Queen on 14th March, are able to enjoy seven large Lighthouse screens, which have been installed for mobile communications giant Nokia.
Designed and specified by 767 AV Consultants, all seven screens use Lighthouse front access 10mm panels, arranged in a landscape (14.08m x 3.36m) format. The screens are built into five ventilation towers which are dressed in blue glass, providing 'landside' passengers with five screens, one on each tower, while those 'airside' enjoy two screens, mounted on the rear of the second and third towers.
Since December 2005 Nokia has opened nine Flagship stores, in Moscow, Chicago, New York, Helsinki, Hong Kong, Mexico City, Shanghai, London and now in Heathrow Terminal 5. The Nokia Flagship store is located airside, but the five landside screens are designed to entertain and entice those checking in to explore the store once they have passed through to the departure lounge.
"We had to use LED panels because there is so much natural light in Terminal 5 that a medium that coped successfully with outdoor light levels was essential," says 767's Graham Wickman.
"In addition, because of the screens being mounted on the ventilation towers, they had to be front access and also meet a very stringent weight criteria," he continues. "They are located over 15m above the floor of the terminal, so we were able to choose a screen that was a good balance between resolution and value for money."
With the five ventilation towers spaced equidistantly along the length of the terminal, the content is formatted so that the screens are treated as one large unit, the visuals making up 'one picture' across all five. This ensures that the attention of viewers is naturally drawn to all five screens, maximising the Nokia advertising message.
"This is a very important part of the design," says Graham. "The specially-commissioned content is the same as used in all of the Flagship stores and is deliberately designed to spread across all the screens."
With systems integration by Electrosonic and content management by Beam Systems, the source equipment is located within the Nokia store and fibre optics is used to transmit the signal from the PC source to a local control rack and the screens.
The control equipment is also linked to Nokia's global content management system, so that content can be broadcast to the screens from a central location.
"Terminal 5 at Heathrow is one of the UK's most prestigious and newsworthy construction projects and we are proud to have been selected by Nokia and 767 AV Consultants to provide it's most eye-catching focal points," says Lighthouse UK General Manager, Simon Taylor.
"Modern airport designers understand that a light, airy feel with a lot of natural light is desirable for optimum levels of passenger comfort. Lighthouse screens are the ideal visual media in this situation due to their high brightness, excellent colour uniformity and picture quality."
[ENDS]
Lighthouse Technologies Limited is a leading LED technology developer, manufacturer and global supplier of state-of-the-art LED modular video panels, which can be assembled into large scale video screens for indoor and outdoor use. It also produces a range of creative video solutions that have a multitude of applications.
Specializing in the research and manufacture of LED products, Lighthouse has its own intellectual properties with a remarkable number of active patents worldwide and is committed to remaining the premier creator of intellectual property values.
The company's LED components, panels and complete video systems undergo stringent quality control with power-on, burn-in processes at ISO9001 and ISO14001-certified manufacturing plants. From the company's inception, Lighthouse products have won a number of international awards, from the prestigious Consumer Product Design Award and the HKITCC Certificate of Merit in Technological Achievement in the 1999 Hong Kong Awards for Industry to Buzz of the Show award at InfoComm 2004 in Atlanta, 2005 IBC Exhibition Design Award and most recently was selected as a Top 100 Global Award Winner by Red Herring Magazine.
Lighthouse operates on a global basis, but knows the importance of understanding its local markets. It has sales offices and technical support teams in the United States, South America, the United Kingdom, Continental Europe, Greater China and Asia Pacific. For more information, please visit www.lighthouse-tech.com
Contact
Sarah James Gasoline Media Limited Tel: +44 1372 471472
E-mail:sarahj@gasolinemedia.com
Web Site:www.lighthouse-tech.com