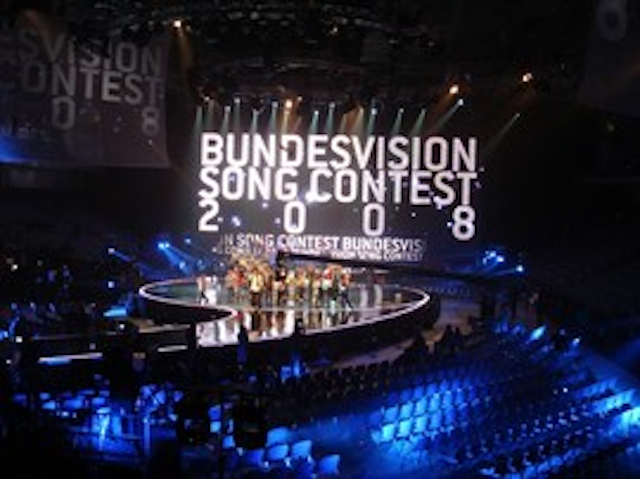 Date Announced: 24 Apr 2008
438m
2
of LC Series panels for televised German music competition
There are big LED walls and then there are enormous LED walls. Put this one in the enormous category.
The largest Martin LC Series™ LED wall to date graced the fourth annual "Bundesvision Song Contest," an annual music competition created by German TV entertainer Stefan Raab. Broadcast live on February 14, 2008 on German network ProSieben, Bundesvision Song Contest 2008 saw 16 music acts representing Germany's 16 federal states compete in a Grand Prix type format at the TUI Arena in Hanover.
The set design for this year's show was dominated by an immense 29 m x 14 m semi-transparent Martin LC Series LED wall located upstage. Built from more than 200 LC 2140 panels, the LED wall covered 406m
2
and had a physical resolution of 725 x 350 pixels. A further 32m
2
of LC panels were used on a seven meter high moving catwalk. A single LC panel 'door' allowed presenters a unique way to enter the catwalk and set through the LED wall.
Visual content for the LED walls and projections was created in full HD by set and video designer Florian Wieder and fed from FOH via 5 Catalyst media servers. In addition to stock media server content, live pictures were presented on the LED wall with switch over of the image source occurring via media control out of the OB van.
Production company voss | mediaDesign GmbH was responsible for the lighting design and playback of the video content. Manfred Voss of voss | mediaDesign worked closely with Florian Wieder who specified the Martin LC Series for the show.
LC Series LED
Martin's LC Series is a semi-transparent, modular system of lightweight LED panels (40 mm pixel pitch). Extremely bright, they are specially prepared for video and TV applications - incorporating Genlock which prevents light-flicker to the camera's eye.
Manfred Voss comments: "The LC Series offers the best video result for the best price. Besides the video performance, when working in such large dimensions the price performance relationship is very important.
"The LC Series offers a very good light output, so that we had to reduce the brightness for the show to 50%. Every pixel on the HD control monitor of the media server corresponds to one pixel on the LC wall. That guarantees a good image quality and exact scaling." The LC wall was reportedly rigged and functional in less than 6 hours.
The lighting rig on the show consisted of over 350 moving lights including 132 MAC 2000 Washes™, 68 MAC 2000 Profiles™ and 28 MAC 700 Profiles™, along with other automateds, conventionals and Pixelline LED Striplights. Lighting supply was from PROCON Event Engineering of Germany. Martin provided on site technical support headed by Product & Application Specialist Claus Jensen.
Client: Brainpool TV GmbH
Set Design: Florian Wieder
Video Design: Florian Wieder
Lighting Design: Manfred Voss, Voss Mediadesign GmbH
Lighting Supplier: PROCON Event Engineering
PROCON Account Manager: Udo Willburger
PROCON Production Manager: Oliver Ebel
Technical Supervisor Video: Markus Neumeier
Video Crew: Oliver Michel, Detlef Liem
Contact
PR Coordinator Larry Beck at Martin Professional at: Telephone: +1 719 686 0793 Fax: +45 87 40 00 10 (DK) / +1 954 858 1811 (US)
E-mail:larry.beck@martin.dk
Web Site:www.martin.com