Free Webcast on Thermally Conductive Films & Preforms April 17th, 2008
Apr 10th, 2008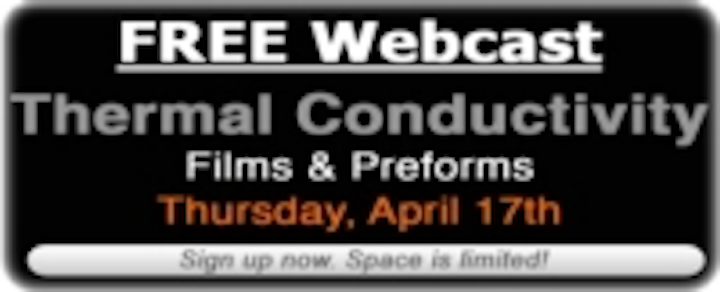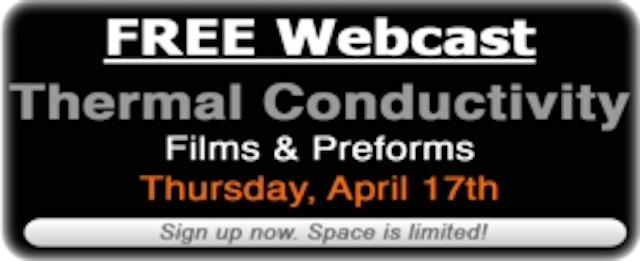 Date Announced: 10 Apr 2008
Ellsworth Adhesives
Presents a FREEE webcast on
Thermal Conductivity: Films & Preforms
Thursday, April 17, 2008
Time: 2:00 p.m. U.S. EST, 18:00 GMT
Duration: Approx 45 minutes with a Q&A session to follow
Topic: Bond-line Thickness and Integrity in the Importance of Delivering Thermal K
- The effects of voids, bubbles, thermal impedance, varying thicknesses on thermal K
- Advantages of thermally conductive films and preforms
- How films and preforms answer the problems
- How to use a film or preform in applications
- What TechFilm offers for thermal solutions
Space is limited to the first 200 registrants.
Register Today!
Copy and paste the following link into your web browser
https://www.yourconferencecenter.com/confcenter/PinCode/Pin_Code.aspx?100230&o=70542128922447
About The Presenter: Phillip Canale, PhD
• Techfilm's Vice President of Technologies
• Considered an expert in thermal characterization of polymers by DMA, DSC, TMA and TGA.
• Thirteen years experience as a formulator using epoxy, urethane, polyester, acrylate (UV) and silicone chemistries in an applications and formulating environment.
• Ph.D. Polymer Science/Plastics Engineering, University of Massachusetts
• MS Chemistry/Polymer Science, University of Massachusetts
• BS in Plastics Engineering, University of Lowell
To learn more about TechFilm products visit: www.techfilm.com
Sponsored by: Ellsworth Adhesives www.ellsworth.com
Contact
Sherrill Retlick, Marketing Manager Ellsworth Adhesives, W129N10825 Washington Dr, Germantown, WI 53022 Phone/Fax: 262-509-8785
E-mail:sretlick@ellsworth.com