LEDs Used in Signage & Professional Displays - Global Market Forecast
Jul 7th, 2008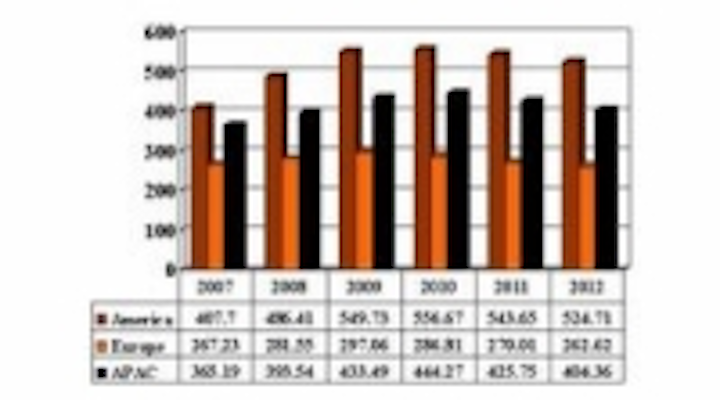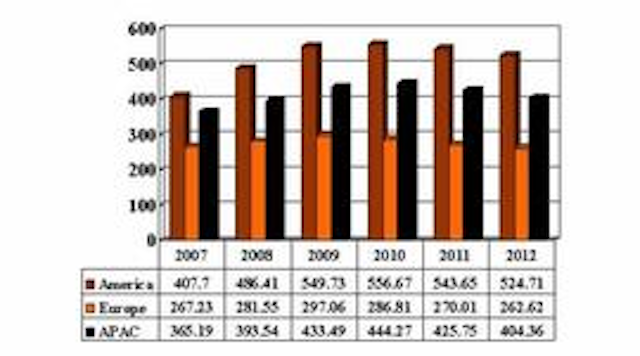 Date Announced: 07 Jul 2008
ElectroniCast Consultants, a leading market & technology forecast consultancy, today announced the release of a new market forecast of the global market consumption of packaged Light Emitting Diodes (LEDs) used in selected electric sign and display applications. The market data are segmented by geographic region, as well as into technology type: standard or conventional versus High Brightness LEDs.
According to the study results, the global consumption (use) value of LEDs used in signage & professional displays in 2007 was $1.04 billion. The consumption value is forecast to increase to $1.19 billion in 2012, with firm quantity growth partially offset by a continuing decline of average prices.
America, in 2007, represented a 39 percent share of worldwide consumption of LEDs used in signage & professional displays. The American market share is forecasted to increase to 44 percent and increase in value to $524.71 million by 2012. Europe, in 2007, represented nearly a 26 percent share of the worldwide consumption value. The Asia Pacific region (APAC) is forecasted to increase in value $365.19 million in 2007 (35 percent market share) to $404.36 million (34 percent market share) in 2012 (see figure).
This market forecast report is available immediately, at a fee of $3,378, from ElectroniCast Consultants.
ElectroniCast Consultants specializes in forecasting trends in technology forecasting, markets and applications forecasting, strategic planning and consulting. ElectroniCast Consultants, as a technology-based independent forecasting firm, serves industrial companies, trade associations, government agencies, communication and data network companies and the financial community. Reduction of the risk of major investment decisions is the main benefit provided. ElectroniCast Consultants' goal is to understand the challenges and opportunities facing clients and to provide timely, accurate information for strategic planning.
Contact
Theresa Hosking, Marketing/Sales Ph: 707/275-9397
E-mail:thosking@electronicastconsultants.com
Web Site:www.electronicast.com