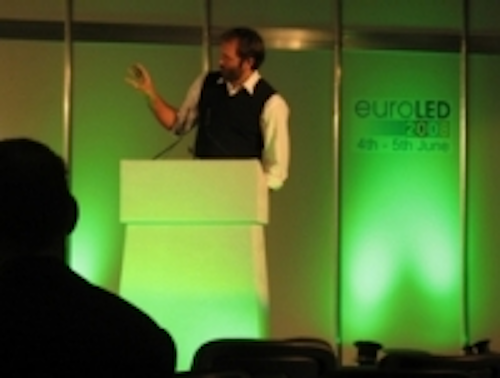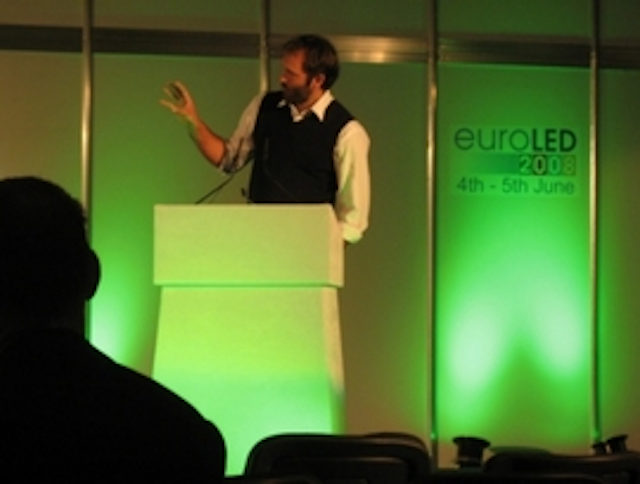 Date Announced: 09 Jul 2008
Ulverston, UK, 9 July 2008. Marl LED lights were responsible for the unusual 'traffic light' colour wash that appeared on the podium back wall. The UK's leading manufacturer of LED assemblies is a premier sponsor of the event.
The LED lights provide a green wash across the back wall for most of the presentation that changed to amber a few minutes from time and red when the speaker is over time.
According to Managing Director Adrian Rawlinson, "This simple idea demonstrates clearly just how flexible and dynamic LED technology is. Using the latest high power RGB LED illumination solutions together with a DMX control interface, there is no limit to the range of effects that can be achieved. We limited ourselves to just three colours in this application, but we could as easily have provided three hundred, three thousand or three hundred thousand different colours from the same lights."
Marl LED lights have been used to tremendous effect in a whole range of highly effective light shows. The best known is Muncaster Castle in the Lake District, where a light show using Marl LED lights is one of the principal attractions to the castle on winter evenings.
For more information about euroLEDs, please visit: http://www.euroled.org
About Marl
Marl has specialised in the design and manufacture of visible LED indication and illumination components and systems for over 35 years, to customers in the electronic, power generation, defence and telecommunications industries. Its highly trained and experienced team of over 100 design and manufacturing specialists operate from a dedicated technology park in Ulverston, England and stand ready to offer its customers a solution to any requirement. They are able to offer a range of standard products, customised to suit individual projects, or even design a specific component from scratch. Marl is a quality company. It is registered to BS EN ISO 9001:2000 standard and fully RoHS and WEEE compliant.
Marl LEDs were demonstrated at euroLEDs 2008 seminars to provide the speakers with a 'traffic light' style stopwatch.
r0510ml
Contact
Marl International Limited, Marl Business Park, Ulverston, Cumbria, LA12 9BN, UK. Tel: +44 (0)1229 582430 Fax: +44 (0)1229 585155
E-mail:marketing@marl.co.uk
Web Site:www.marl.co.uk