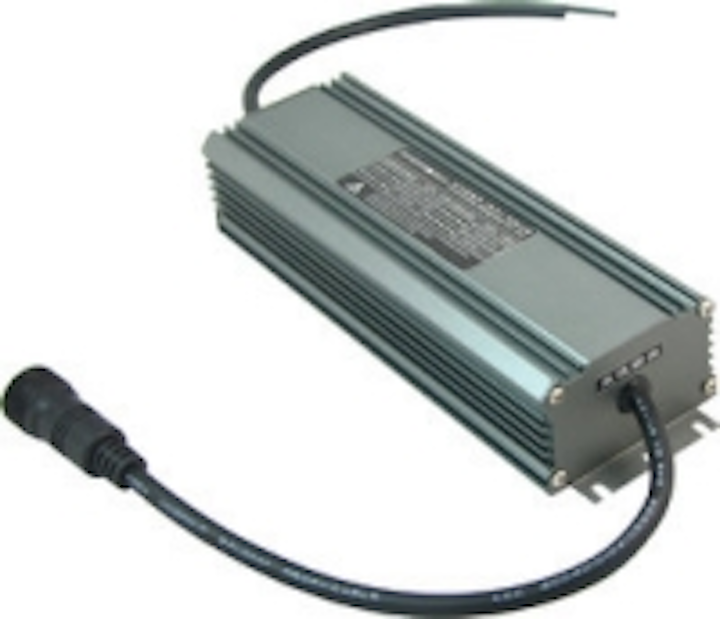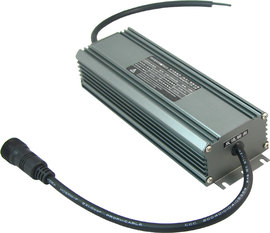 Date Announced: 08 Jul 2008
Hangzhou, China - July 7, 2008 - Inventronics has released a new line of high efficiency ac-dc power supplies targeting a broad array of LED lighting applications. These power supplies are housed in a rugged aluminum enclosure which meets the IP67 ingress protection standard allowing this product to be used in indoor or outdoor applications in wet or dry environments. This product has also raised the standard for high efficiency lighting by delivering up to 95% power conversion efficiency.
The new EWV Series, offers a variety of output voltages from 12 to 54 Vdc with all of the products operating over a universal input range of 90 ~ 264 Vac and delivering up to 150W of continuous output power. All EWV Series power supplies provide a variety of critical protection features such as over-current, short-circuit, over-voltage and over-temperature protection. This product also offers robust lightning protection and complies with UL1310-2 and EN60950-1 safety standards. It is packaged in a compact 187mm x 66.5mm x 42mm aluminum enclosure.
"These new power supplies dissipate only about half the power of most competitive products," said Gary Hua, President and founder of Inventronics. "In applications like LED lighting which are largely driven by energy savings it only makes sense to use a high efficiency power supply. In addition, the lower power dissipation results in lower component temperatures which produces higher reliability and that means fewer service calls."
Samples of the EWV Series are available now. Technical information is available on the Inventronics website at www.inventronics-co.com
About Inventronics
Inventronics, headquartered in Hangzhou, China, is a technology leader in the design of high power, high-efficiency ac-dc adapters. The company was founded in 2007 by Dr. Gary Hua, a renowned expert in the global power electronics arena. The company focuses on the development of small footprint, ultra-high efficiency ac-dc adapters utilizing world class design practices. The product portfolio consists of adapters from 90W to over 200W with typical efficiencies of 92% or more. Inventronics also develops custom products for computing, communications, medical and solid state lighting applications.
Contact
Attn: Ms. Grace Chen Tel: 86-571-86632260 Fax: 86-571-86601139
E-mail:sales@inventronics-co.com
Web Site:www.inventronics-co.com