LightFactory Interface Builder Available Now
Jul 10th, 2008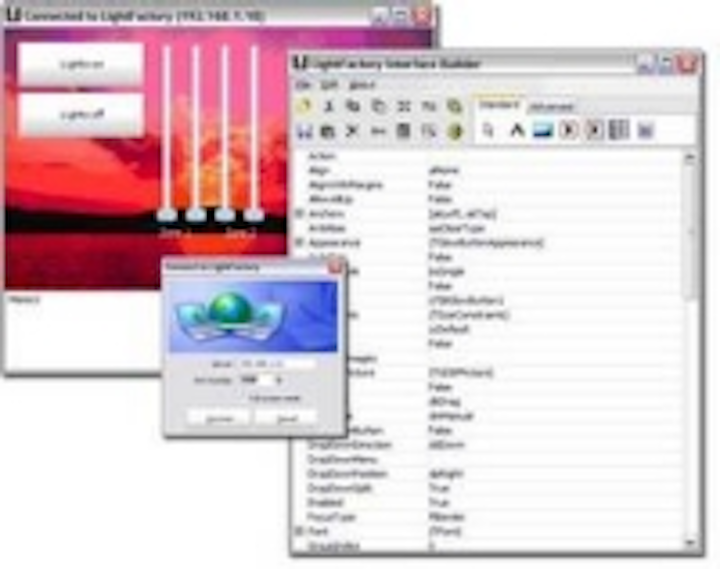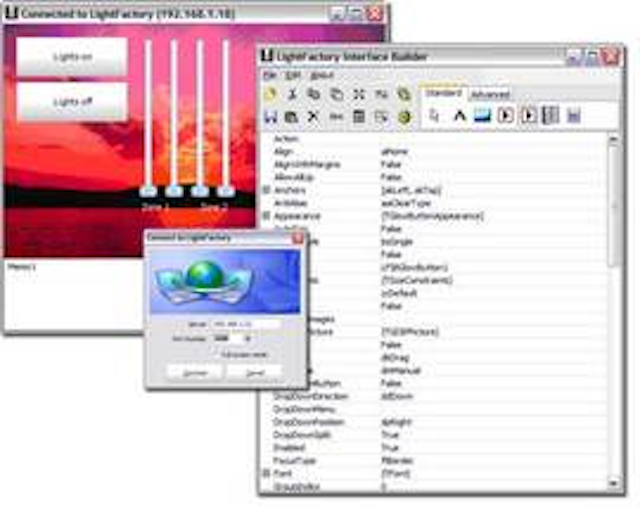 Date Announced: 10 Jul 2008
AUCKLAND, NZ. Dream Solutions is pleased to announce the immediate availability of the LightFactory Interface Builder.
The Interface Builder is an add-on to the highly successful LightFactory software. This standalone application allows the user to create custom graphical lighting control surfaces. With simple drag and drop operation a user can build as many graphic interfaces as they want with a rich assortment of modern looking controls.
• Modern looking controls include labels, images, glass buttons, glow buttons, sliders, memos, indicator lamps, date and time label, gradient painter, and simple colored shapes.
• Interfaces can be run either locally or remotely from a LightFactory system.
• Lightweight application can run on low spec'd hardware.
• Connect several remote interfaces to a single master controller.
• A registered Interface Builder system can create an unlimited number of interfaces.
• Deploy interfaces to end users royalty free.
The latest version of LightFactory and the Interface Builder is free to download from:
http://www.lifact.com/
LightFactory now has more than 2,500 licensed users worldwide and its controllers have seen great success in a variety of applications. From running major stadium spectaculars to local theatre pantomimes, night clubs and events, to museums and architainment applications, LightFactory is the most comprehensive, user friendly, and cost effective lighting controls solution.
A unique PC based lighting control system, LightFactory offers a no compromise approach in blending traditional dimmer controls with a fully featured moving lights suite, and the latest in multi-media capabilities. LightFactory was designed with the idea that every lighting engineer, operator, or designer could own his or her own control system. One system they are completely familiar with, that works for every situation they face, and one they can rely on every time. Most PC based control systems attempt to mimic the consoles they replace with a focus on moving light support, LightFactory closes the gap with the traditional console in a revolutionary, software based solution at a remarkable price point.
Contact
Martin Searancke Dream Solutions (LightFactory) Ltd. Auckland, New Zealand
E-mail:martin@lifact.com
Web Site:www.lifact.com