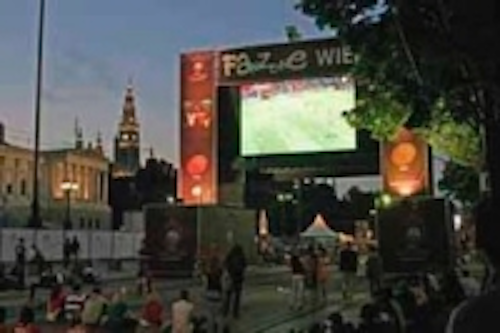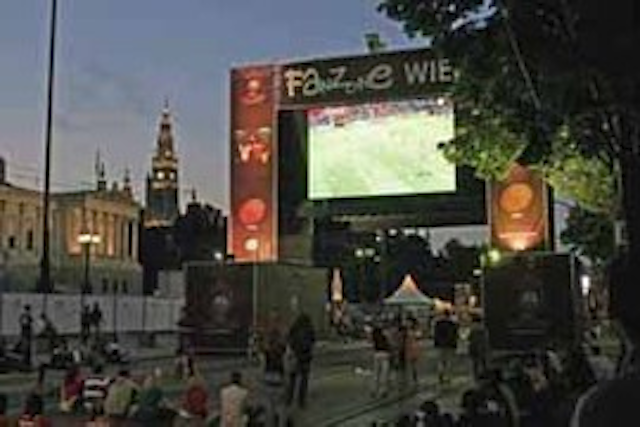 Date Announced: 18 Jul 2008
Europe – 17 July 08 - At the climax of the recent Euro 2008 tournament, thousands of football fans descended on Vienna, Austria for the final between Spain and Germany. UEFA had organised an official 'Fan Zone' for those without tickets. The Fan Zone in Vienna featured the state-of-the-art Lighthouse LED screens supplied by one of the Europe's leading screen rental companies, Vienna-based Medien Werkzeuge.
Fan Zones are a recent phenomenon. The craze took off at the 1998 World Cup in France, where screens were erected in town squares to give ticketless supporters a chance to join in the football frenzy.
Now again, at Euro 2008, Fan Zones have contributed greatly to the sense of occasion, promoting an international party mood with high spirits.
Sponsors prefer to promote their brands in a positive, "emotional environment", so the Fan Zone represents a perfect opportunity for them, too. And with many TV stations now broadcasting pre-match, half-time and post-match reports from the Fan Zones, this can provide a significant level of visibility for the game's high-profile advertisers.
But none of this could be achieved without all the necessary facilities in place, the most fundamental of which are the LED screens. These have to offer a high standard of contrast and colour reproduction, as well as clarity over long distances and in all climatic conditions — as we recently witnessed in storm-struck Vienna!
Generally, the screens are provided by a sub-contractor and, in Vienna and a number of other locations around Austria and Germany, that responsibility fell to a leading Austrian rental company, Medien Werkzeuge GmbH.
"We have a long history of involvement with entertainment events in Vienna," says Christian Wymetal, managing director of Medien Werkzeuge. 'And although cost is an important factor when targeting this sort of business, clearly the quality of the screens we provide, the operating personnel and references from customers, all play a big part."
Significantly, the screens that Medien Werkzeuge provides are all Lighthouse.
"We've invested in Lighthouse since we started the business in 2001,' Christian explains. 'Our unique selling point was to have all our big screens sourced from just one supplier — a reliable and reputable supplier — providing the kind of good-value, top-quality LED screens that would help us get a good return on our investment. And that supplier is Lighthouse.
"So, at the official UEFA Fan Zone in Vienna City all the LED screens were Lighthouse," Christian continues. 'We supplied 10 LED screens with size of around 320m², using a combination of R7-ER, R10, R12 and R19 panels, based on the size of the screen and the area it had to cover. The Fan Zone stretched along Ringstraße, one of the most elegant, tree-lined boulevards in the old city centre, and the total area it covered was about 2,000 square metres.'
Medien Werkzeuge also provided a 10m² screen near the famous Ferris Wheel in Vienna, along with screens for three other cities in Austria, three locations in Germany and one site in Switzerland.
"We used all our stock of R7-ER, supplying the screens and fibre optic connections, but we didn't build any of the structures,' Christian adds. 'We simply advised the design consultant which screens would be best in which location, and then lined-up two people to look after each of the screens throughout the three-week event."
Coincidentally, one of the Euro 2008 footballing venues, the 'Red Bull' Stadium Salzburg, Wals-Siezenheim, was already equipped with two Lighthouse R12-ER screens. "We installed them two years ago and Red Bull actually bought the success from us last autumn," Christian explains.
"Throughout the tournament, Lighthouse maintained a massive profile across Europe," says Michiel Hettinga, Lighthouse's sales director, Western and Central Europe. "Our screens were commissioned through a number of our European rental partners including AV-Control kft (Hungary), AVMS GmbH, Cassiopeia, CT Germany and Velten GmbH (Germany), Fantasy GmbH (Austria), Hulskamp and JVR (Netherlands), Screenco (UK), XL Video (Belgium) and VGC (Poland). The network provided a staggering 1,266 panels of R7-ER alone, which is proving to be the ideal product for such events."
With continued support from both UEFA and the leading football sponsors, it seems that public viewing of major football events are here to stay.
"It's great that everyone can enjoy a big match together, even if they haven't managed to get a ticket," concludes Christian. "It is certainly safer, more comfortable and much more fun than trying to cram into a bar to watch a game on a flickering TV set.
"Watching a game on a big Lighthouse screen is as close as you can get to the real thing — without actually being there."
Contact
Sarah James Gasoline Media Limited Tel: +44 1372 471472
E-mail:sarahj@gasolinemedia.com
Web Site:www.lighthouse-tech.com