Supervision takes digiLED to the Euro 2008 Championships
Jul 25th, 2008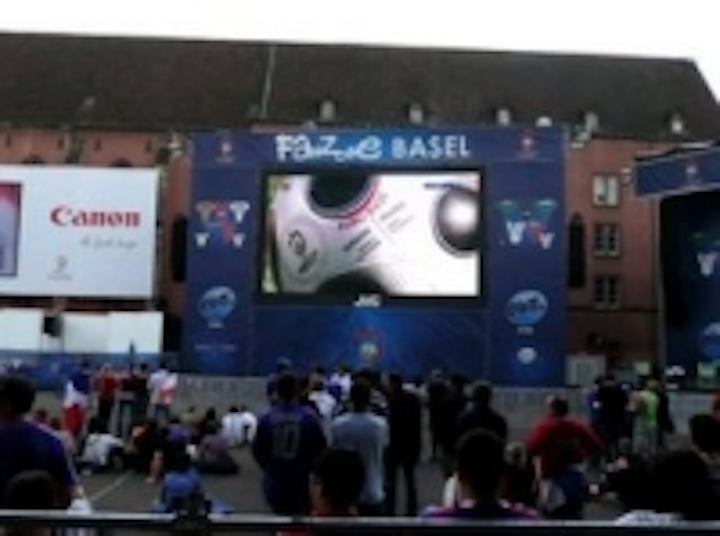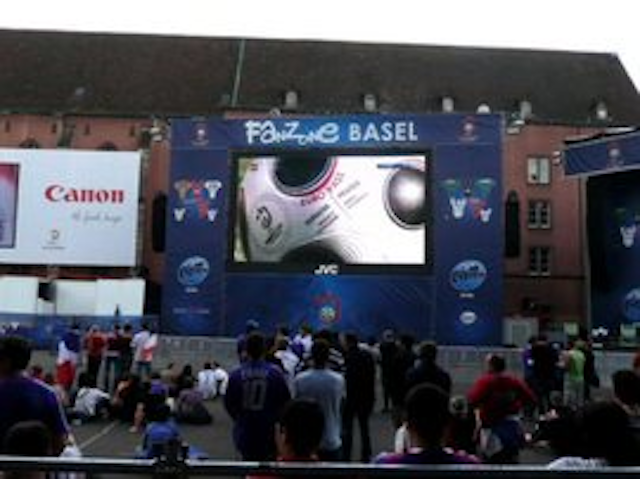 Date Announced: 25 Jul 2008
Pioneering French screen rental company, Supervision, who in 2009 will celebrate 25 years of delivering large mobile LED screens to events across Europe, was delighted to be the main UEFA's contractor in this year's big one, Euro 2008. Another headliner to add to its extensive list of high profile sporting events.
As the demand for screens for use in public arenas was so high, Supervision ordered 2 digiLED d11N screens to add to its LED tour inventory. Supervision chose the digiLED screens for their quality images, ease of installation and above all the digiLED's ability to meet tight deadlines. The team had just 57 days to design, manufacture and deliver the screens in time for the first game of the tournament.
The two giant 49.52m
2
digiLED d11N screens were installed in the Fan Zones at Basel's Kasernenplatz and Münsterplatz. The Kasernenplatz screen was built into a structure positioned at the side of a stage, whilst the one in Münsterplatz was centre hung above the stage.
Each day's programme started at 1.30pm, with live entertainment, bands and promotional sponsor videos being shown on the screens. DJs revved up the crowds before the football started and then kept the fans entertained during and after the matches.
The Supervision team used the digiPRO HD processors to resize and optimise the content for the screens.
The screens are the first digiLED products that Supervision have purchased and they started working immediately they were delivered to the venues, so on-site training was conducted by digiLED technicians who were also available for technical support and advice throughout the Championships.
The high resolution digiLED d11N screens each measured an impressive 49.25m
2
, 9.328m high x 5.28m wide. With an 11mm effective, 22mm physical pixel pitch, the screens provided an effective resolution of 848 x 480 pixels.
COMMENTS FROM THE PEOPLE INVOLVED:
"We are delighted with the quality and impact of the digiLED screens," says Supervision's Hernan Poblete. "The digiLED team has more than met our expectations in supplying, delivering and installing the two giant screens in time for UEFA 2008."
"Supervision have a fantastic pedigree in major sporting events," says displayLED CEO Graham Burgess. "For such a prestigious LED operator to buy digiLED is a hug accolade for our brand."
About digiLED - digiLED is the in-house LED brand of LED display specialists displayLED. displayLED act as an integrator for all leading brands of LED displays in addition to installation, maintenance and consultancy services and are also the world's largest broker of used LED displays.
Contact
Sian Sparkes, DISPLAY LED SCREENS LTD 20 THE CODA CENTRE, 189 MUNSTER ROAD, LONDON SW6 6AW T +44 (0) 20 7381 7840 F +44 (0) 20 7381 7844
E-mail:sians@displayled.com
Web Site:www.displayLED.com