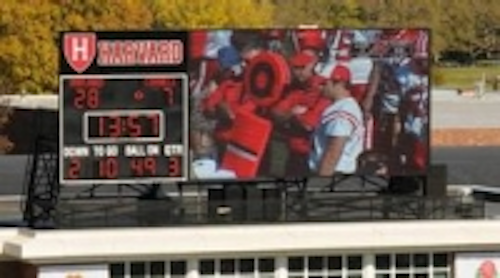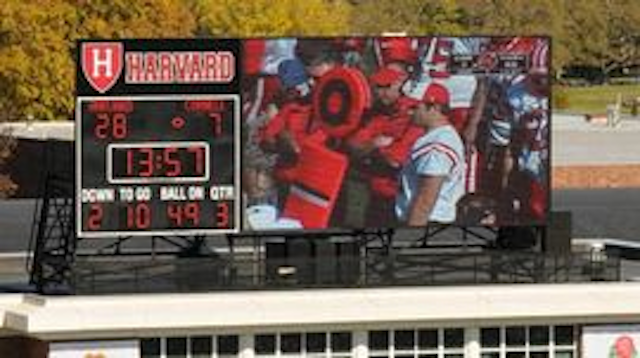 Date Announced: 30 Oct 2008
BROOKINGS, SD – Oct. 30, 2008 – Harvard University opened the 2008 season with a new integrated light emitting diode (LED) video and scoring system, designed and manufactured by Daktronics Inc. of Brookings, SD (NASDAQ-DAKT). The new video and scoreboard display at Harvard Stadium replaced the incandescent scoring and message center.
The state-of-the-art system features the latest Daktronics LED video technology with the capabilities to present live and recorded video images, colorful animation and vivid graphics with incredible brightness and wide angle visibility. The video display is approximately 30 feet wide by 18 feet high with pixels on 23 millimeter spacing. Daktronics LED technology offers a long lifetime with minimal maintenance and low power consumption, providing value and excitement for years to come.
"Although we compete in some of the most refined and historically-important athletic venues in this country, Harvard is continually looking at ways to improve upon our facilities for the best experience for our fans," said Susan Byrne, Harvard Associate Athletic Director for Sales and Marketing. "Daktronics is a big part of that initiative and we continue to use their products because of their high quality and reliability."
The custom scoreboard features home and guest scores with team name message centers, game clock, down, to go, ball on and quarter digits. The video and scoring are integrated through Daktronics proven control system.
"Daktronics has enjoyed the relationship with Harvard Athletics to provide scoring solutions for a number of their intercollegiate sports," said Daktronics Northeast Regional Manager Ross Yanco. "With the history of Harvard Stadium partnered with Daktronics' latest technology, Harvard fans will have one of the most distinctive game day experiences in college athletics."
About Harvard University
Nestled in a spectacular setting next to the Charles River and with the Boston skyline on the horizon, Harvard Stadium ranks among the nation's finest college football facilities. Built in 1903, it is also the nation's oldest stadium. Harvard Stadium is a horseshoe containing architectural elements of a Greek stadium and Roman circus and is considered an engineering marvel, as it was the world's first massive reinforced concrete structure and the first large permanent arena for American college athletics. With a seating capacity of 30,323, Harvard Stadium is praised for its outstanding sightlines for fans.
About Daktronics
Daktronics, celebrating its 40th anniversary this year, has strong leadership positions in, and is one of the world's largest suppliers of, electronic scoreboards, computer-programmable displays, and large screen video displays and control systems. The company excels in the control of large display systems, including those that require integration of multiple complex displays showing real-time information, graphics, animation and video. Daktronics designs, manufactures, markets and services display systems for customers around the world, in sport, business and transportation applications.
Contact
Daktronics 331 32nd Ave. P.O. Box 5128 Brookings, SD 57006-5128 Ph: (605) 697-4300 or toll-free in the US: (800) 325-8766
E-mail:sales@daktronics.com