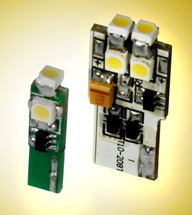 Date Announced: 02 Oct 2008
PACOIMA, CA (October 2, 2008) -- JKL Components Corporation announces a new line of 12 V Flatwedge LED boards, which are intended as replacement upgrades from wedge based lamps, both incandescent and the first generation of LED substitutes which are typically mono-directional.
The new Flatwedge LEDs are available in T1 ¾ (p/n LEFW-F12) and T3 ¼ (p/n LEFW-M12) sizes and are 12 VDC for the T1 ¾ size and 12 V AC/DC for the largest T3 ¼, and have a warm white color output with a Kelvin temperature of 3300K. The Flatwedge LEDs improve on 1st generation wedge based LEDs by emitting multi-directionally in the X and +Z axes for maximum directional illumination, consisting of high-brightness surface mount chips on a PCB for direct insertion into switches, sockets and indicator holders.
JKL Components Corporation offers solutions that encompass a wide variety of lighting technologies, including LED, CCFL, ultraviolet, incandescent and gas-filled lighting. JKL is registered ISO-9001 and products are RoHS Compliant.
Contact
Sherry Carpenter, General Manager of JKL Components Corporation, 13343 Paxton Street, Pacoima, CA 91331. Telephone (818) 896-0019. Fax (818) 897-3056.
E-mail:sales@jkllamps.com
Web Site:www.jkllamps.com