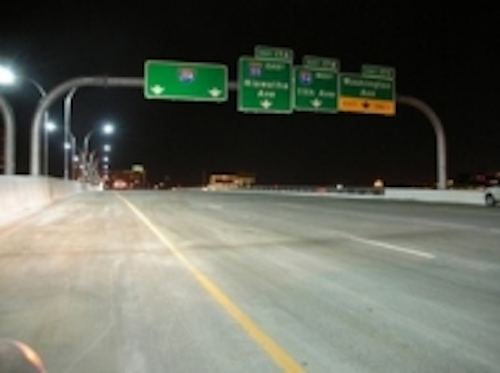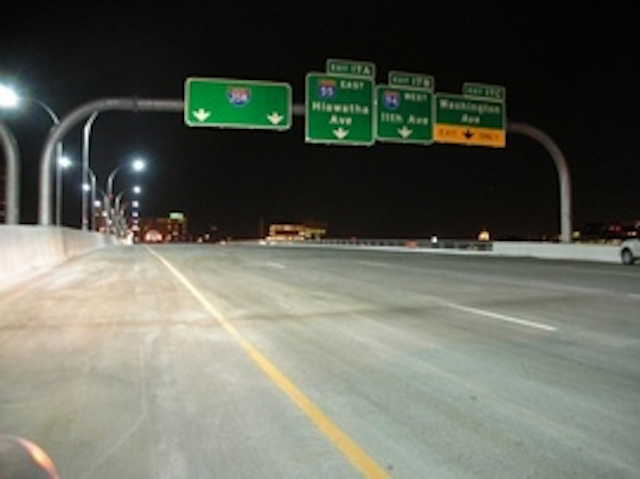 Date Announced: 28 Oct 2008
LED fixtures deliver sustainability, low operating costs and excellent visibility
BetaLED™ luminaries were installed along the entire deck of the newly rebuilt I-35W St. Anthony Falls Bridge located in Minneapolis, MN, in preparation for the bridge's reopening in September 2008. All of the fixtures on the bridge deck are THE EDGE™ area luminaires, which deliver more than five times the life of traditional 250-W high-pressure sodium lamps, significantly reducing maintenance costs such as relamping and replacement. Officials also expect to gain an annual energy savings of approximately 15% from the luminaires.
"The proprietary technology of THE EDGE helps to create safer conditions for motorists by producing white light and better uniformity," said Al Ruud, president of Beta Lighting. "THE EDGE luminaires are a perfect fit with the other sustainable and high-tech features of the new bridge."
The patent-pending NanoOptic™ refractors within each BetaLED fixture layer light efficiently into the desired target zone creating superior uniformity and control. Visibility is dramatically improved, increasing safety for vehicular traffic on the bridge deck. The EDGE™ luminaries are also IES full cutoff and Dark Sky compliant. The new I-35W Bridge has a rated life span of 100 years and features a state-of-the-art design incorporating the latest safety and environmental technology, such as "Smart Bridge," a built-in sensor system that monitors structural behavior, runs the anti-icing system and operates the signals and message signs. High-performance concrete and multiple levels of steel reinforcing bars have also been used to ensure structural soundness.
The I-35W Bridge provides direct access to downtown Minneapolis and was rebuilt by the Minnesota Department of Transportation after its tragic collapse in August 2007. BetaLED introduced THE EDGE family of products to the lighting industry in 2007. THE EDGE system provides efficiency, performance and longevity to LED technology. The high-performance LEDs within THE EDGE fixtures have a color temperature of 6000K (4300K and 3500K available). The key to longevity is proper thermal management. The fixture's modular design has individual heat sinks mounted to each light bar leading to scalability in design and the assurance the LEDs are operating at optimal temperature. In addition, THE EDGE fixtures are recyclable and contain no mercury, avoiding potential environmental pollution hazards.
About BetaLED
BetaLED, a brand of Beta Lighting, was established to dedicate resources to the emerging use of LED technology for general illumination. Beta Lighting, a division of Ruud Lighting Inc., provides the lighting market with high-quality, specification-grade luminaires for exterior lighting applications. Outside of the US, THE EDGE and LEDway™ products are sold under the Ruud Lighting brand.
Contact
Marty Organ BetaLED Ph: 262/884-3110
E-mail:marty_organ@beta-kramer.com
Web Site:www.BetaLED.com