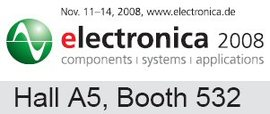 Date Announced: 08 Oct 2008
Macroblock, as a leading LED driver IC manufacturer will continue to showcase its technology breakthroughs realized in the new products for LED display and LED lighting fields at Macroblock booth A5.532 at Electronica 2008 from 11th to 14th November in Munich, Germany.
Year 2008 is a significant year for various LED applications from the proofs of those magnificent LED screens at Beijing 2008 Olympics Game and the maturity of LED lighting products for general and automotive lighting. With the commitment to high-quality, high-efficiency and user-friendly LED drivers for a wide range of LED applications, Macroblock will highlight innovative products in different perspectives including:
- Silent error detection function for commercial LED panels and traffic signs
- Power saving functions for traffic signs and message signs
- 16-bit S-PWM embedded LED driver with two-wire interface for RGB clusters in architectural lighting
- High voltage LED driver with error detection and DC/DC boost converter integration ability for general lighting, automotive lighting and LED backlighting
- Hysteretic PFM constant current DC/DC buck converter with full protection for decorative lighting and high power lighting
To know more about Macroblock's innovative technologies and products, you are welcome to visit our booth at Electronica 2008.
Electronica 2008
New Munich Trade Fair Center, Germany
Macroblock booth # A5.532
November 11-14, 2008
www.mblock.com.tw
About Macroblock
Macroblock is a dedicated mixed-signal IC company. Foreseeing the promising future of LED applications, Macroblock is committed to providing excellent LED drivers that help LEDs to achieve outstanding performances. Macroblock constantly provides customers innovative and differentiated LED related IC solutions for LED display, illumination, and backlighting applications.
Contact
Lisa Liu, Technical Marketing Dept. Macroblock, Inc. Tel: +886-3-579-0068 ext. 208 Fax: +886-3-579-0125
E-mail:lisa@mblock.com.tw
Web Site:www.mblock.com.tw