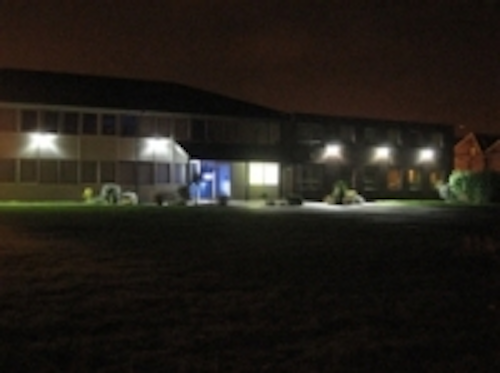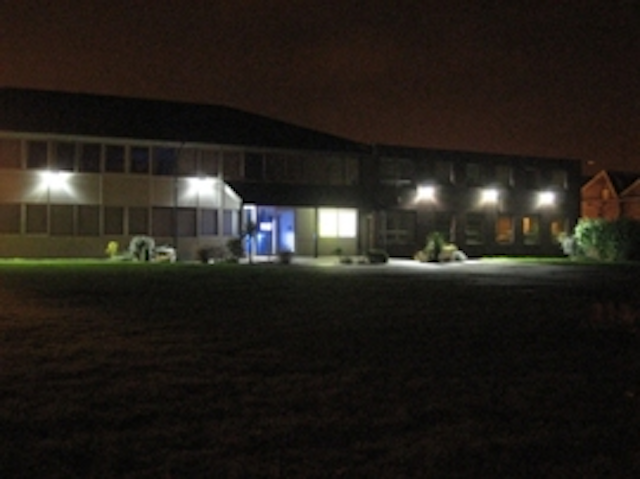 Date Announced: 20 Oct 2008
Ulverston, UK -- New LED-based security floodlights from Marl offer exceptionally powerful downward illumination – but draw just 30W and can last for over ten years.
Marl 742 series high brightness security lights use four efficient LED light engines in a ruggedized, vandal-resistant, IP65 rated enclosure to deliver a low energy, low maintenance solution for perimeter, path, driveway, industrial and other security lighting applications. The lights can last for over ten years, based on a rated life of 50,000 hours, and twelve hours continuous use per day, and draw just 30W when in use.
The 742 series enclosure has been design to minimise light pollution, casting its beam downwards to provide a wide area of clear white illumination below. This feature further helps improve the efficiency of the unit. The lamps have a number of 20mm conduit entry points on the back and sides allowing maximum flexibility when mounting the unit. Mounting brackets for internal and external corners, as well as a pole mounting bracket are optionally available if required.
The rugged case is sealed against moisture and dust ingress to IP65, and features die-cast aluminium construction with a prismatic polycarbonate lens to protect the lamp against accidental damage and deliberate attack. The Marl 742 series is manufactured in the UK at the company's ISO9001 approved site in Ulverston, England.
About Marl
Marl has specialised in the design and manufacture of visible LED indication and illumination components and systems for over 35 years, to customers in the electronic, power generation, defence and telecommunications industries. Its highly trained and experienced team of over 100 design and manufacturing specialists operate from a dedicated technology park in Ulverston, England and stand ready to offer its customers a solution to any requirement. They are able to offer a range of standard products, customised to suit individual projects, or even design a specific component from scratch. Marl is a quality company. It is registered to BS EN ISO 9001:2000 standard and fully RoHS and WEEE compliant.
Photo caption: The new 742 Series of security floodlights from Marl offer an energy efficient, low maintenance solution whilst providing a powerful downward illumination.
Contact
For more information, please contact: Marl International Limited, Marl Business Park, Ulverston, Cumbria, LA12 9BN, UK. Tel: +44 (0)1229 582430; Fax: +44 (0)1229 585155
E-mail:marketing@marl.co.uk
Web Site:www.marl.co.uk