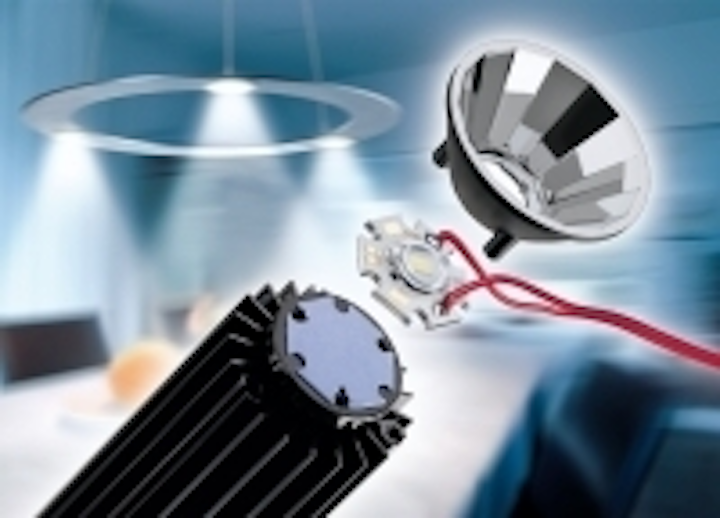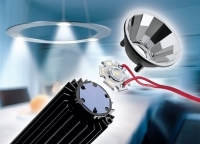 Date Announced: 24 Oct 2008
The LED Engineering Kit, which OSRAM Opto Semiconductors is now offering for sale on the LED Light for You (LLFY) platform, provides a means of gaining practical knowledge of LED lighting. This kit is a powerful tool for anyone who wants to test LEDs, various accessories and applications.
The Engineering Kit includes components from various LLFY partners. In addition to the OSRAM OSTAR high-power LED, there are various lenses and reflectors, a power supply, a thermal interface and a selection of heat sinks. A brochure is also included for technical assistance.
Lighting designers, luminaire manufacturers and architects are all heavily involved in creating lighting systems that contain the latest technology. They can use the Engineering Kit as a simple way of gaining an insight into this new LED technology and test different LED lighting solutions. Different reflectors, lenses and heat sinks can be combined to create numerous variations and provide an idea of what the new light sources can achieve and what their special features are.
The Engineering Kit contains the OSTAR LED, two reflectors from Fraen with medium and narrow beam angles and three lenses from Ledil – one with a wide angle, a spot lens and a cat's eye for side deflection. A thermal interface from Laird that provides optimum heat dissipation, two heat sinks (from Coolermaster and an aluminum plate), an OSRAM Optotronic power supply for the European/Asian or NAFTA market round off the kit. The kit demonstrates the numerous options offered by these tiny light sources and indicates the accessories needed.
"An LED alone is not a light fitting," said Sebastian Lyschick, Network Manager LLFY at OSRAM Opto Semiconductors. "Our kit provides a quick and simple means of understanding the new LED technology and its exciting possibilities. It can be used as the basis for developing projects and products with network partners."
Contact
Susanne Ketterl OSRAM Opto Semiconductors GmbH Tel: +49 (941) 850-2927 Fax: +49 (941) 850-4442927
E-mail:susanne.ketterl@osram-os.com
Web Site:www.ledlightforyou.com/led-kit