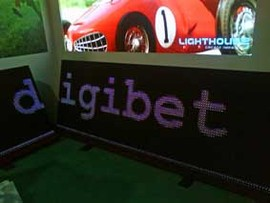 Date Announced: 16 Oct 2008
Leading LED screen manufacturer and supplier, Lighthouse Technologies, launched its new B10 LED panel at Leaders in Football, held at Chelsea FC, London on 7th and 8th October.
B10 has been specifically developed for the sports market to address the ever-increasing demand for pitch side, or perimeter, advertising screens, which provide important additional revenue for clubs and venues.
Each B10 panel measures 1280mm (w) x 960mm (h) and uses Lighthouse's Enhanced Resolution (ER) technology to give an effective 10mm pixel pitch. 5,000 nits of brightness enables B10 to cope with any level of ambient light, even direct sunlight, and accurate colour reproduction means that advertisers logos can be perfectly replicated.
An important design modification of the B10 is its rubber louvres, incorporated to protect players on the field should they accidentally run into it during the course of play. Additional benefits include an adjustable rear stand, allowing the panels to be angled to suit any size of stadium and any rake of seating, and its wide viewing angle (140 degree horizontal, 50 degree vertical) further aids audiences' visual enjoyment from just about any seat in the venue.
Each B10 panel has an IP65 weatherproof rating and can cope with a wide range of temperatures, making it able to handle with the demands of sports arenas and stadiums all year round the world over. Its lightweight and slim casing design mean that it is also easily transported, making it ideal for rental purposes on non-match days, providing a valuable additional revenue stream and increasing return on investment.
Processing is SVP-SXGA and the panels are ROHS ready, so compliance with European standards is a given.
"The B10 offers exceptional return on investment for our partners," says Simon Taylor, general manager of Lighthouse Technologies' UK office. "Leaders in Football was the first opportunity for us to demonstrate this dedicated sports product and the reaction was very good."
Lighthouse has also announced a strategic alliance with Click Effects, a division of US company Sound & Video Creations, Inc., making the power of Click Effects available to Lighthouse customers.
Click Effects' CrossFire, Blaze, FlashBack and ProAudio programmes use a simple point and click system to deliver scheduled and live impulse video clips, audio tracks, graphics, instant replays, animation and sponsor advertisements, providing a comprehensive selection of turnkey solutions that improve delivery management and control of content for audio and video displays in sports and broadcast markets globally.
"The alliance with Click Effects means that Lighthouse can present an even greater range of solutions to the sports market," concludes Taylor. "It allows us to provide a fully integrated approach which offers a great return on investment for our customers."
~END~
Lighthouse Technologies Limited is a leading LED technology developer, manufacturer and global supplier of state-of-the-art LED modular video panels, which can be assembled into large scale video screens for indoor and outdoor use. It also produces a range of creative video solutions that have a multitude of applications.
Specializing in the research and manufacture of LED products, Lighthouse has its own intellectual properties with a remarkable number of active patents worldwide and is committed to remaining the premier creator of intellectual property values.
The company's LED components, panels and complete video systems undergo stringent quality control with power-on, burn-in processes at ISO9001 and ISO14001-certified manufacturing plants.
From the company's inception, Lighthouse products have won numerous international awards, from the prestigious Consumer Product Design Award and the HKITCC Certificate of Merit in Technological Achievement in the 1999 Hong Kong Awards for Industry, to Buzz of the Show award at InfoComm 2004 in Atlanta and 2005 IBC Exhibition Design Award. Most recently, Lighthouse was selected as a Top 100 Global Award Winner by Red Herring Magazine.
Lighthouse operates on a global basis, but knows the importance of understanding its local markets. It has sales offices and technical support teams in the United States, South America, the United Kingdom, Continental Europe, the Greater China and Asia Pacific. For more information, please visit www.lighthouse-tech.com
Contact
Sarah James Gasoline Media Limited
E-mail:sarahj@gasolinemedia.com
Web Site:www.lighthouse-tech.com