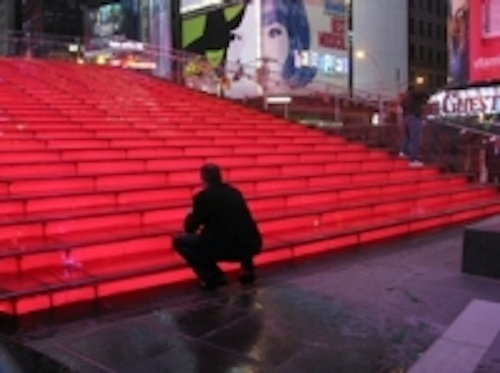 Date Announced: 24 Oct 2008
iLight Technologies Inc. has lit up the spectacular TKTS Booth in New York's Times Square with LED Plexineon technology.
The multimillion dollar redevelopment of this award-winning design features a luminescent amphitheater with a dramatic floating red staircase. The TKTS booth uses over 2800 linear feet of red Plexineon LED lighting fixtures to make the steps, and therefore the stadium, come to life through a dramatic radiance of red lighting.
This project shows lighting designers, architects and engineers the performance, durability, and ease of use that iLight's LED lighting systems offer.
"iLight's products provide designers with creative lighting tools that enhance the impact of a project," says iLight's President & CEO, Sean Callahan. "The TKTS booth illustrates how powerful lighting effects can transform an already striking seating structure into an exciting destination location."
iLight's products use LEDs as the light source because they offer reduced energy and maintenance costs and longer lifetimes than conventional lighting.
The structure has 27 red steps that rest on an assembly made entirely out of glass and rise over a fiberglass shell housed underneath the steps, and was designed by world-class architects, Perkins Eastman of New York.
iLight's versatile lighting system was able to provide the exact lengths needed for this stunning application. Other design firms that worked with Perkins Eastman Architects on this project include: Dewhurst Macfarlane and Partners engineered the glass steps; Choi Ropiha provided the award-winning design concept; and Schaefer Lewis Engineers, PC, was the project's mechanical engineering firm.
Contact
Elizabeth Randgaard Director of Marketing iLight Technologies Inc. T: 312.876.8630
E-mail:erandgaard@ilight-tech.com
Web Site:www.ilight-tech.com