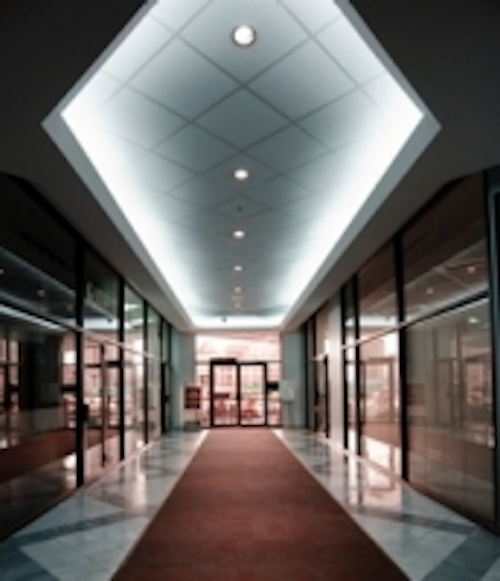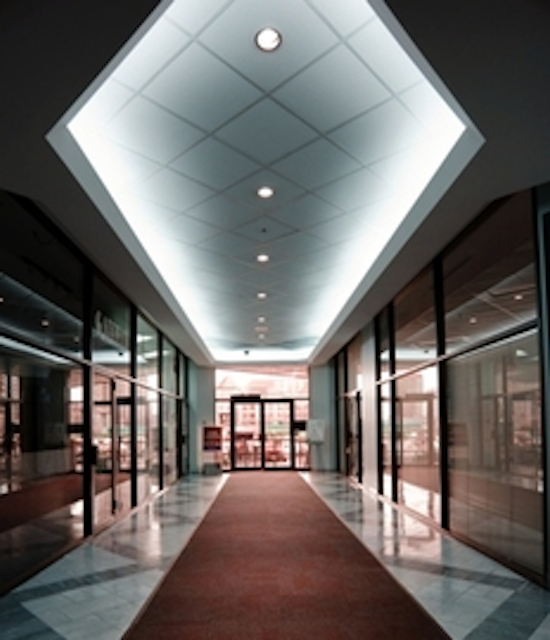 Date Announced: 28 Oct 2008
Power LEDs have been tracing a steep performance curve, to deliver environmental and economic benefits in a growing variety of lighting opportunities. The most powerful LED light engines are now able to supersede conventional incandescent lamps for office lighting, as a recent successful project in Canada demonstrates.
Commercial Benefits
Commercial premises must meet a number of important demands in relation to their appearance, running costs, and – more recently – their effect on the environment. While being as cost-effective as possible, in terms of regular maintenance and consumption of utilities, they must also convey an acceptable corporate image. In addition to the cost of energy, increasing scrutiny on environmental performance of businesses has raised the importance of energy efficiency as a measure of corporate social responsibility.
In a recent project with Canadian lighting specialist Burton Lighting Network and interior designer Therese Gould, Lighting Science Group's Titan LED light engines supplied by Marl demonstrated how the latest lighting technologies help companies improve performance in all of these aspects.
Burton Lighting has installed 30 LED downlights at the corporate offices of Morguard Properties in Missisauga, Ontario, as part of an upgrade and refurbishment in conjunction with designer Therese Gould and consulting company Comley van Brussel Design. Barry Burton, of Burton Lighting, explains the background to the project. "LED lighting technology is a powerful tool for designers. It can support innovative design ideas while also meeting the more austere cost-based requirements of commercial customers. We know Therese Gould well, and have worked with her on several other successful projects. She understands the value in using new technologies to deliver a higher level of customer satisfaction."
Image and Economy
LED lighting has tremendous potential to help satisfy environmentally inspired drives to reduce energy consumption in buildings. Conventional lamps used in office lighting may consume up to 100W or higher. At Morguard Properties, for example, Burton Lighting replaced a mix of 90W and 120W PAR lamps. Thanks to higher efficiency and lower operating voltages, LED light sources consume around one-third of the power for a comparable light output. Throughout a large office or an entire building, this translates into an appreciable saving in the number of Watts consumed to light the premises. Barry Burton calculates a yearly power saving equivalent to around $1600 Canadian dollars for the 30-lamp conversion at Morguard.
Converting to LED lighting also unlocks some interesting additional energy savings due to the fact that less heat is produced, thereby reducing the load on the building air conditioning system. The savings vary depending on the local climate, as this influences the air-conditioning time required: as a rule of thumb in the Ontario area, saving three Watts of lighting power brings an additional one-Watt saving in HVAC power. In addition to delivering valuable financial benefits, these energy savings also help enterprises demonstrate commitment to environmentally responsible behaviour.
Designers, too, are concerned with helping premises owners improve their image. Their success depends on being able to demonstrate a portfolio of powerful ideas and innovative solutions, and winning enthusiastic endorsements from customers in their target markets. Therese Gould sees new technologies such as LED lighting as central to meeting these objectives. "This technology now has the capability to deliver the raw luminous intensity required to light large working areas, and is also extremely controllable," she agrees. "We can optimise the intensity, directionality and colour of light to create imaginative effects that have hitherto been impossible or impractical in commercial projects."
Overcoming Barriers to Adoption
These opinions among designers and end users create a powerful pull drawing LED technology into commercial lighting projects. However, there have historically been some practical barriers to adoption. Most LED light engines on the market, for example, require new wiring to connect multiple units to a transformer across a 24V DC link. Barry Burton has overcome this by designing an LED downlight for direct connection to a PAR-30 type fixture. By including a small 120VAC-to-24VDC converter within the luminaire itself, he has created a low-power LED lighting solution that can be used within a standard mains-lighting circuit. This allows refurbishment of offices to use LED lighting without requiring new wiring practices or inspection codes. In addition, LED luminaires can be retrofitted easily as part of a lighting-only upgrade without rewiring.
To deliver high lighting performance within the physical constraints imposed by the PAR 30 form factor, Barry Burton has used the award winning Titan LED light engine. Titan embodies advanced packaging techniques that deliver high thermal performance. This is critical to producing high luminous flux and achieving high reliability and longevity, and allows Lighting Science Group to densely cluster multiple high-brightness LEDs for exceptionally high luminous intensity within small footprints. The units can produce more than 1000 lumens from a single point, and are designed for popular drive currents of 1.050A or 1.4A. Titan LED light engines are configured with an array of cavities, each populated with multiple LEDs, to deliver the highest usable optical output among currently available LED light engines.
Titan has been used in many new applications that were previously only possible using conventional technologies, such as landscaping, stage and studio lighting and architectural projects. Barry Burton's design is the first interior downlight using Titan light engines.
Burton Lighting's LED downlight consumes only 35W. From a ceiling height of 10 ft, the unit produces a beam of 4.5 ft diameter and 28 foot-candles luminous flux at its centre. This is comparable to the light output of a PAR-30 incandescent lamp, allowing like-for-like replacement to deliver similar or better lighting without requiring extra LED units to be fitted.
Energy Savings
Titan's low power consumption and high thermal efficiency not only saves energy but also assisted with the thermal design of the luminaire.
"Since the efficiency and lifetime of an LED are both related to its operating temperature, this requires close attention to thermal management," says Barry Burton. "The thermal performance of the Titan light engine allowed me to implement effective heatsinking within the PAR-30 form factor and thereby design for field life longer than 11 years." In relation to the normal interval between refurbishment of commercial office buildings, this effectively represents an infinite lifetime, thereby saving owners additional costs in terms of maintenance and relamping.
The combined costs of labour and administrative overheads to manage routine replacement of failed bulbs, as well as making provision for the safe disposal of fluorescent tubes, which contain mercury, is appreciable. With the average lifetime of an incandescent lamp usually assumed to be around 3500 hours, the 30 lamps at Morguard impose replacement costs of over $800 per year. Converting to LED lighting allows companies to eliminate these costs.
Combining the annual power savings with the reduction in maintenance costs, Barry Burton believes Morguard will save around $2500 per year simply by converting 30 lamps from incandescent units to Burton's Titan-based PAR30-compatible LEDs.
Visible Results
Another interesting aspect of this conversion is that Burton Lighting has designed the downlights for approval in situ under UL provisions for special inspection. The inspection agency QPS Entella has inspected the installation in Missisauga to ULc/CSA standards for electrical safety.
The successful completion of this project demonstrates the practical and styling benefits that Burton Lighting and Therese Gould have achieved by designing with Titan LED light engines. The enhanced controllability of the LED downlights, compared to conventional light sources, produces plentiful illumination throughout the offices for a functional working environment. For a pleasing visual effect, the designer's use of cool white LED light engines enhances and blends in with the natural daylight of the large windows in the front lobby area.
"The results we achieved for Morguard show how far and how quickly LED lighting technology is progressing," concludes Barry Burton. "As recently as a year ago, we could not have achieved this performance within a PAR30-compatible outline. By allowing us to create a solution that delivers the practical benefits of LED lighting in a format that can be easily incorporated into existing building wiring infrastructure, the Titan light engine will accelerate the adoption of this green, low-maintenance and versatile technology."
Titan TM LED Light Engines, a Trade Mark of LSG Inc
Contact
Marl International Limited Marl Business Park Ulverston Cumbria LA12 9BN United Kingdom
E-mail:marketing@marl.co.uk
Web Site:www.leds.co.uk/