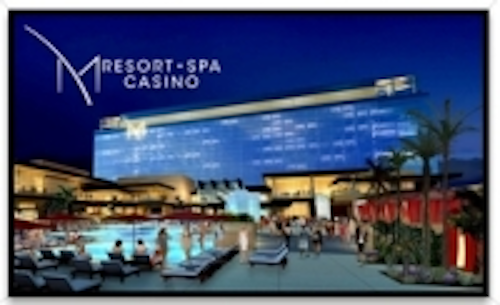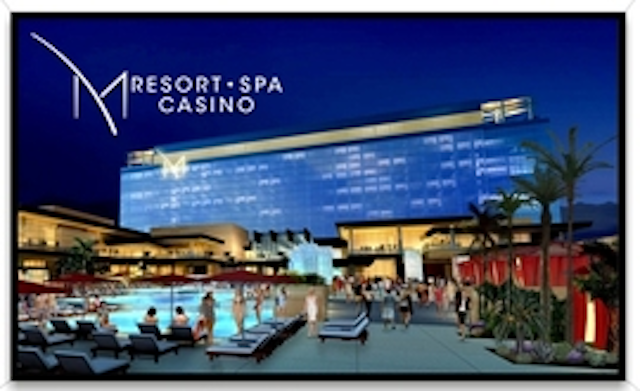 Date Announced: 28 Oct 2008
New Billion Dollar Las Vegas Casino-Resort-Hotel to Open March 2009
Daktronics Inc. (NASDAQ-DAKT) of Brookings, SD, the world's leader in LED displays, has announced that the Company will provide the new M Resort, Spa and Casino with two outdoor LED video displays and ProPixel® freeform video elements for two channel letter logo displays.
Measuring approximately 24-feet-high by 38-feet-wide both LED video displays will be placed back-to-back on the M Resort's front entrance pylon marquee. Positioned along South Las Vegas Boulevard at St. Rose Parkway, the M Resort plans to feature pre-recorded video and M Resort property advertising on the displays. Installation of the displays is scheduled for completion in December of 2008.
"We are pleased to select Daktronics for our outdoor marquee," said Executive Vice President and Chief Operating Officer Joseph A. Magliarditi. "Daktronics excels at creating large screen video displays and we know they will create a marquee that will enhance the M Resort and enable our customers to view what is happening at the property every day."
Daktronics ProPixel® freeform video puck elements will illuminate two 44-feet-tall channel letter displays placed on the side of the M Resort's 400-feet-tall tower. Perfect for unconventional shapes, ProPixel® elements can be added anywhere an artistic video effect is desired.
Daktronics video technology helps enhance gaming facilities themes and provides incredible ambiance that keeps guests returning. By pushing the boundaries of LED technology, Daktronics video displays wrap structures of any shape and size, add dimension and dynamics to flat surfaces, and turn gaming facilities' logos into impacting, motion-driven signage.
Designed especially for Las Vegas residents and located on over 90-acres, the M Resort will be an upscale, value-driven, $1-billion addition to the Vegas locals market. Once completed, the M Resort will tower 400 feet above the Las Vegas Strip and will be the newest must-see casino resort in Las Vegas.
Anthony A. Marnell III is developing M Resort Spa Casino who has partnered with Marnell Corrao Associates (MCA) for the construction of the resort. MCA is responsible for the design and/or construction of dozens of resorts in Las Vegas including Wynn Las Vegas, Bellagio, Mirage, Rio All-Suite, Palazzo Suites, New York New York, Caesars Palace, and Treasure Island, to name a few.
About M Resort, Spa, Casino
M Resort, Spa and Casino is located on over 90 acres at the southeast corner of St. Rose Parkway and Las Vegas Boulevard. Situated higher in elevation than other resort-casinos on the Las Vegas Strip, the M Resort will provide optimal views of the world-famous Las Vegas skyline from its guest rooms, suites, conference center and restaurants. The resort features 390 exceptionally appointed guest rooms and suites, over 92,000 square feet of gaming and more than 60,000 square feet of meeting and conference space in addition to a variety of luxury amenities including a partnership with Taubman Centers, Inc. to bring up to one million square feet of in-line retail shopping to the M Resort. The resort will also feature a 14-screen digital movie entertainment complex. Entertainment options coupled with unique dining offerings and a state-of-the-art spa and fitness center provide local and out of town guests with an unrivaled South Strip experience. For more information, visit www.theMresort.com.
About Daktronics
Daktronics, celebrating its 40th year of business in 2008, is recognized as the world's leading provider of full-color LED video and messaging displays. Daktronics began manufacturing LED video displays in 1997. Since then, nearly 5,000 full-color large screen LED displays have been sold and installed in commercial and sporting facilities around the world. Since 2001, independent market research conducted by iSuppli Corp. lists Daktronics as the world's leading provider of LED video displays. Daktronics designs, manufactures, markets and services display systems for customers around the world, in sport, business and transportation applications.
Contact
Daktronics 331 32nd Ave. PO Box 5128 Brookings, SD 57006-5128 Ph: (605) 697-4300 or toll-free (800) 325-8766
E-mail:sales@daktronics.com
Web Site:www.daktronics.com/gaming