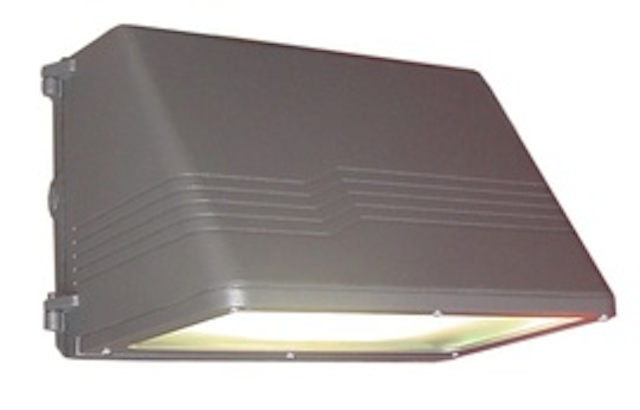 Date Announced: 12 Dec 2008
SAN JOSE, CA — Guth Lighting's just-released SUNDOWNER LED family of wall pack fixtures leverages LUXEON Rebel LED technology to provide a never-before-possible 60-degree beam spread in a dark sky housing, improving visibility while also reducing the number of fixtures needed to cover a given wall expanse. Guth's new LUXEON-based wall packs also extend luminaire life up to seven times, slash energy needs by 80%, support 'green' initiatives, and significantly lower the total cost of ownership.
The new line consists of five models containing from 4 to 40 LEDs for scenarios ranging from doorway lighting to 20-foot-high mounting applications. Instead of only illuminating the ground like conventional wall packs, the fixtures take advantage of the LUXEON LED's physical and optical properties to distribute light uniformly over a 60-degree field for partial wall coverage. Benefits include:
• A 30% reduction in fixturing needs because a single wall pack can light a wider area.
• Better visibility at wall level, increasing comfort and safety for passersby.
• Increased efficiency due to use of light traditionally blocked by the dark sky housing.
A detailed case study about the LUXEON-based Guth Lighting SUNDOWNER LED is now available at www.philipslumileds.com/pdfs/CS22.pdf.
About Philips Lumileds
Philips Lumileds is the world's leading provider of power LEDs for everyday lighting applications. The company's recent records for light output, efficacy and thermal management are direct results of the ongoing commitment to advancing solid-state lighting technology and enabling lighting solutions that are more environmentally friendly, help reduce CO2 emissions and reduce the need for power plant expansion. Philips Lumileds' LUXEON LEDs are enabling never before possible applications in the general lighting, automotive, digital imaging, display, and signage markets.
About Royal Philips Electronics
Royal Philips Electronics of the Netherlands (NYSE: PHG, AEX: PHI) is a diversified Health and Well-being company, focused on improving people's lives through timely innovations. As a world leader in healthcare, lifestyle and lighting, Philips integrates technologies and design into people-centric solutions, based on fundamental customer insights and the brand promise of "sense and simplicity". Headquartered in the Netherlands, Philips employs approximately 128,000 employees in more than 60 countries worldwide. With sales of EUR 27 billion in 2007, the company is a market leader in cardiac care, acute care and home healthcare, energy efficient lighting solutions and new lighting applications, as well as lifestyle products for personal well-being and pleasure with strong leadership positions in flat TV, male shaving and grooming, portable entertainment and oral healthcare. News from Philips is located at www.philips.com/newscenter.
Contact
Heather Kelly, SSPR 719-634-8274 Tracy Annandale, TKO ruth.hallam@tko.co.uk +44 (0)1444 473555
E-mail:heather.kelly@sspr.com
Web Site:www.philipslumileds.com