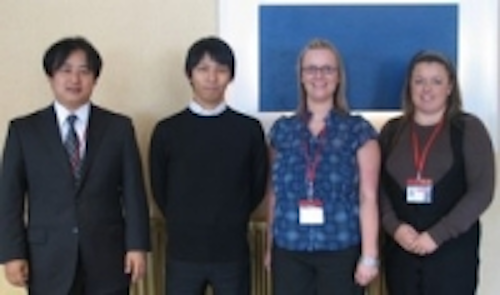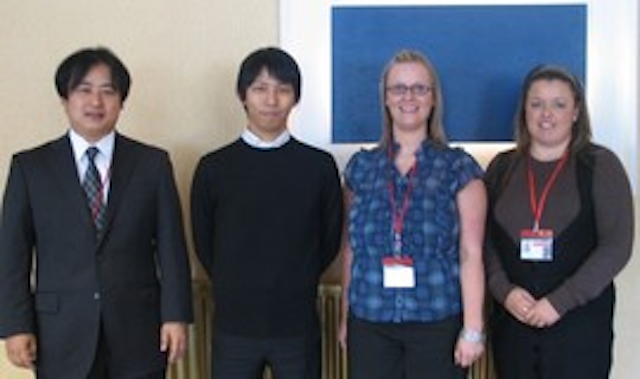 Date Announced: 02 Dec 2008
Ulverston, UK, 2 December 2008. Marl Optosource and Citizen Electronics have concluded a landmark agreement, under which Marl Optosource will distribute Citizen LED products in the UK.
[Photo caption: Manabu Danjo, Chief Sales Planner and Ijichi Atsurou, Business Development Manager, Citizen Electronics; Clare Millard, Technical Sales Executive and Emma Thomas, Internal Sales, Marl.]
According to Adrian Rawlinson, Managing Director of Marl International, "Citizen White LEDs as of today deliver more light for less power than any other component currently on the market. This agreement makes Marl Optosource the only UK-based distributor for a world leader in LEDs".
Citizen Electronics Co. Ltd added, "Citizen required a partner able to support our world leading LED technologies. Optosource is one of the longest established names in the UK LED business, and we have great respect for their technical expertise and engineering ability. We believe that their engineering-lead sales approach based on exceptional customer support and great technical insight will be highly valued by our customers in the UK".
About Citizen Electronics
CITIZEN ELECTRONICS was established in 1970 for the purpose of producing electronic wristwatches with a turning fork system, and since then, has advanced into the market of electronic parts, developing surface-mount LED products, application products such as backlight units using LED, various types of light sensors, compact tactile switches and small acoustic devices. The company has production sites in Yamanashi and Fukushima (Japan), Jiangmen, Suzhou, Nanjing (China), and sales offices in Germany, the United States, Singapore, Hong Kong, and Beijing. For further information, please visit our website; http://ce.citizen.co.jp/
About Optosource
Marl Optosource is one of the UK's leading distributors of LED components. Optosource offers privileged access to the product portfolios of the world's leading optoelectronic manufacturers, and can offer a complete one-stop solution to any visible opto electronic component requirement. The new website contains a detailed database on all LED components and accessories including heatsinks, drivers and lenses. Please visit: www.optosource.com.
About Marl
Marl has specialised in the design and manufacture of visible LED indication and illumination components and systems for over 35 years, to customers in the electronic, power generation, defence and telecommunications industries. Its highly trained and experienced team of over 100 design and manufacturing specialists operate from a dedicated technology park in Ulverston, England and stand ready to offer its customers a solution to any requirement. They are able to offer a range of standard products, customised to suit individual projects, or even design a specific component from scratch. Marl is a quality company. It is registered to BS EN ISO 9001:2000 standard and fully RoHS and WEEE compliant.
Contact
Marl International Limited, Marl Business Park, Ulverston, Cumbria, LA12 9BN, UK. Tel: +44 (0)1229 582430 Fax: +44 (0)1229 585155
E-mail:marketing@marl.co.uk
Web Site:www.optosource.com