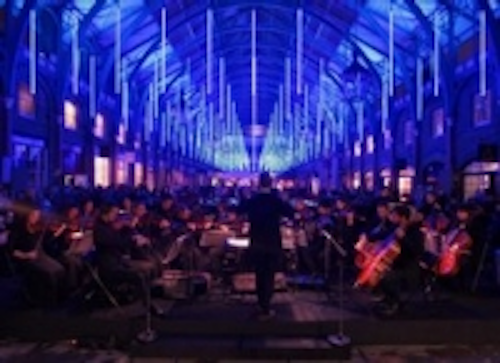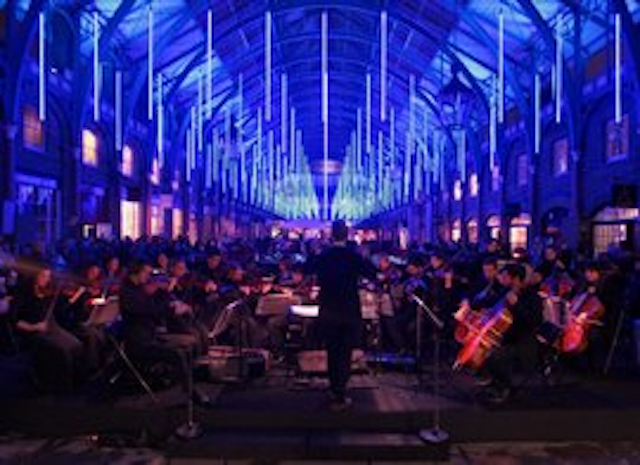 Date Announced: 05 Dec 2008
United Visual Artists Ltd (UVA) presents its latest responsive installation commissioned by Covent Garden as part of its Delight Christmas campaign this year. "Constellation" is a light-based sculpture that has been designed especially for the Covent Garden Market Halls.
TARMLED GmbH & Co. KG supplied a total of 578 two-meter long, double-sided, LED strips, and 37 data power distribution units (DPDUs) to power the installation. It took 10 weeks to custom design and deliver the TARMLED system.
TARMLED's engineers developed the video-compatible LED strips based on the TARMLED STRIP 25-modules that premiered at the PLASA 2008 show. The LED strips were incorporated into polycarbonate tubes coated with a semitransparent reflective film, in accordance with UVA's design.
Together with customized TARMLED DPDUs, the tubes are allowed to hang elegantly in the space, as the DPDUs allow for cable runs of maximum 20 meters from the fixture using a single CAT5e cable carrying data and power to each fixture.
The 25mm pixel spacing of the TARMLED strips and UVA's regular grid layout of the tubes allow for spectacular 3D displays of voluminous, complex, geometric patterns and effects. The system is entirely driven by UVA's d3 production system.
The project consists of:
1156 x 2m strips of TARMLED STRIP 25
37 x TARMLED DPDUs customised for UVA
37 x Enttec Datagate
40 x Chromaflood 200
24 x SGM Palco 3
11.8 km CAT5e cable
1.2 km polycarbonate tube
135 sqm semi-translucent mirror silver film
1.4 km steel wire
92.480 LEDS
138,720 channels of DMX
1 x d3 production controller
The project was completed on November 17 and will run until February 1, but the light-based sculpture will be used for other purposes in the future.
[Editor's Note: For more holiday display photos from LEDs Magazine, go to
LED Holiday Lights: Send us your photos and see the brightest results
]
Contact
tarm LED GmbH & Co.KG Rombacher Huette 6-10 D-44795 Bochum Ph: +49 234 579 37 00
E-mail:rl@tarmled.de
Web Site:www.tarmled.de/video/index.html