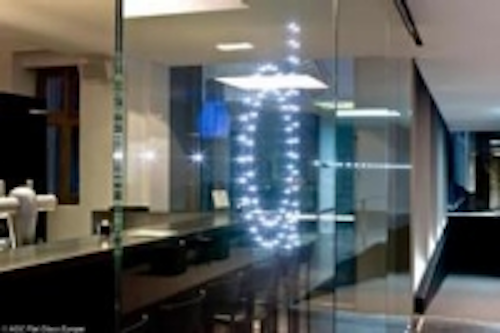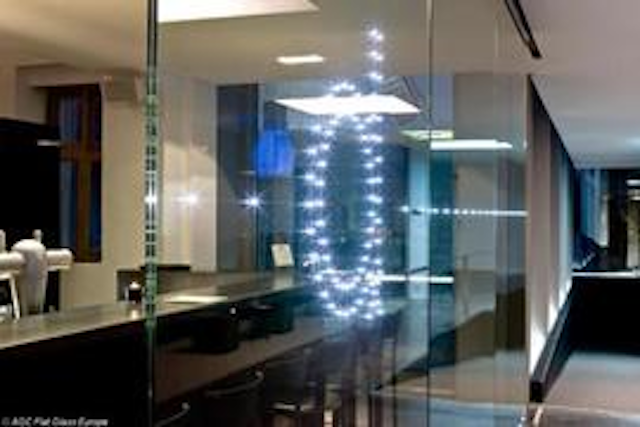 Date Announced: 17 Dec 2008
Glassiled, a unique product based on a revolutionary new technology developed by AGC Flat Glass Europe, integrates LEDs into laminated glass. The stylish d-hotel, designed by architects Benny Govaert and Damiaan Vanhoutte, is the first high-profile project to use this ground-breaking glass.
The d-hotel, which is located in the heart of Marke, Belgium, near Kortrijk, stands out through its unique architecture and timeless interior: contemporary linear design meets rustic décor on a site that also features a historic windmill.
When creating this masterpiece, architects Benny Govaert and Damiaan Vanhoutte used all the latest materials. From the bedrooms to the bar, from the gyms to the reception area and the meeting rooms, the architects and designers did not leave a single detail to chance.
Chosen for its image of high-tech sophistication, Glassiled has been used to create the perfect atmosphere for several locations in this truly extraordinary hotel:
* Guests will be provided with an i-Pod Touch, the ultimate symbol of information 'at your fingertips', for the duration of their stay, allowing them to access a wealth of information on the hotel and its services. In the reception area, the i-Pod Touches are displayed on Glassiled shelves that highlight their originality.
* Glassiled is used as an attractive communication medium on the magnificent sliding door leading into the 'Lounge' bar: the door features the 'd' used in the hotel's logo and is interspersed with points of light that emphasise the elegant perspective the elegance of the long full length transparent partition.
* Could the lift door transport you to another dimension full of surprises? A Glassiled wall covering bearing displaying the 'd' logo welcomes visitors into the hotel's impressive lift.
* The relaxation room features a transparent partition made of Glassiled, making it a bright, dynamic space for sport-lovers and guests seeking comfort and a feeling of well-being.
As soon as Glassiled was launched, its innovative nature was recognized with a gold medal for design at Batimat. Panels of experts also bestowed awards upon the product at the Interieur and Equip'Baie trade fairs last month. Architects and designers from all walks of life are inspired by the possibilities Glassiled offers for façades and interior design.
Glassiled is also making its mark on other architecture and design projects. Allowing light through by day and becoming a light source by night, Glassiled is a unique, versatile glass product. Two particularly noteworthy projects are a façade for lighting specialists Targetti at Brussels South (Hugo Neumann) and the balustrades in the Maison Alfort theatre in Paris (Balustra Glassiled).
1 Interieur –International Design Trade Fair –Kortrijk October 2008 – Commendation - design@works – Communication category
Equipbaie/Metalexpo – Paris – November 2008 – Web users' award – Balustra Glassiled – balustrade incorporating light emitting diodes
2 The glass used for the external façade is the insulating solar-control glass Sunergy
About AGC Flat Glass Europe
A European leader in flat glass, AGC Flat Glass Europe (formerly Glaverbel) makes and processes flat glass for the construction industry (exterior glazing and interior decorative glass) and specialist sectors. Based in Brussels, Belgium, it is the European branch of AGC Flat Glass, the world's leading producer of flat glass.
Its baseline - 'Glass Unlimited' - reflects the possibilities and scope offered by:
* glass as a material that meets a growing range of requirements (comfort, energy control, health & safety, appearance);
* its production facilities comprising 18 float glass plants and some 100 processing units located throughout greater Europe, from Spain to Russia;
* its worldwide marketing network;
* its new applications resulting from ongoing R&D in advanced glass technology;
* the resources of its personnel motivated by a shared desire for excellence.
AGC Flat Glass Europe currently employs around 10,700 people.
Contact
AGC Flat Glass Europe Brigitte Dubuisson Tel: +32(0)2 674 32 04
E-mail:brigitte.dubuisson@eu.agc-flatglass.com
Web Site:www.agc-flatglass.eu