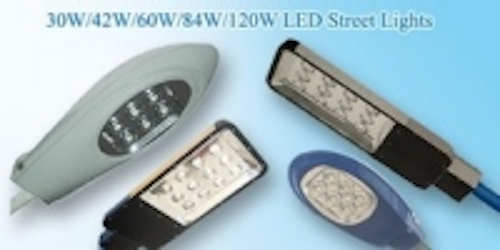 Date Announced: 16 Dec 2008
Everlite LED Lighting Co., Ltd, a Chinese mainland LED lighting manufacturer located in eastern China, Zhejiang Province, has launched its full range high power LED street lights.
The LED street light assortment includes 30w, 42w, 60w, 84w, and 120w in terms of led power. All of them can be made into AC universal input voltage 85~265V, and also low voltage 12V/24Vdc for applying to solar lighting systems.
LEDs used in the street lights are multichip LEDs 7w, 10w. The LEDs are of high luminous efficiency up to 75 lumen/watt at white color 5000-6000K. For warm white color tone 2700-3300K, the efficiency can also reach 65 lumen/watt.
All street lights are coupled with Everlite's patented optic lenses special design for street lights. Thanks to the high efficiency optic lenses, light emitted by the LEDs can be 95% transmitted through the luminaire, and also come out with a batty wing shape light distribution on the ground, which is close to the traditional light distribution curve of the HPS lamps with reflector street light luminaires.
Keeping our eyes on the world LED street lighting markets, we found that almost all LED street lights available on the market have existing or potential problems on light distribution. Some lights can not distribute light evenly on the road, some can not distribute light widely, even some who can distribute the light wide on the road evenly, but pilot projects shows people were complaining that there was less light on the pavement side. Everlite's engineers think far in this point. We can make sure our light distributes widely, evenly, enough light on the pavement, and keep it with very low glare.
With the die casting aluminum housing and toughened grass cover, the street lights are IP65 protection degree. It can be used in all-weather application in any part of the world.
With its UL listed power supply, the street lights are featured with high power efficiency of 85% and high power factory of 90%. The street light is applying for UL certification, and hopes to get the certification on the first quarter of 2009.
Contact
Jackie Zhang Sales Manager Tel: +86 574 6519 6933 Fax: +86 574 6519 5657
E-mail:jackie@globalsources.com
Web Site:www.everlite.cc