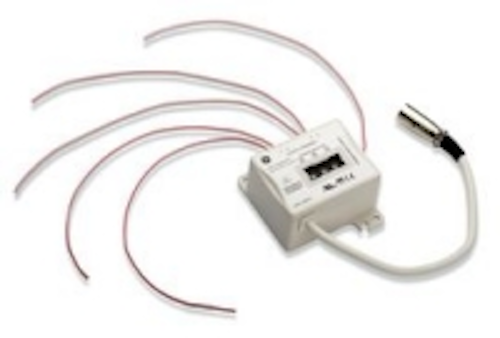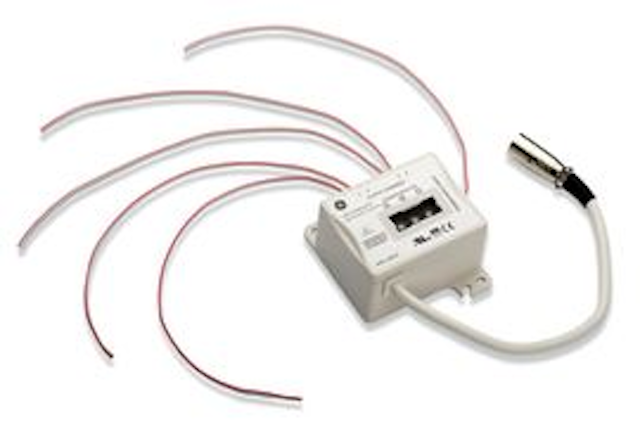 Date Announced: 04 Dec 2008
CLEVELAND - Architectural lighting professionals are able to create a broad assortment of vibrant lighting effects using the new Tetra® FX special effects controller from Lumination, LLC, GE Consumer & Industrial's LED business. The controller allows designers to create dynamic LED lighting effects such as dimming, sequencing, flashing, chasing, color changing and color mixing.
Tetra FX is designed to provide maximum compatibility. It seamlessly connects and interfaces with standard DMX 512 controllers, enabling tremendous flexibility when paired with any 12V or 24V Tetra LED lighting system. The easy-to-use address selector allows for the creation of up to 512 unique controller addresses, and four output banks can support up to four different Tetra LED lighting systems. Additional systems can easily be added by connecting multiple Tetra FX controllers with a Y-splitter cable.
"Reliability is a must in architectural lighting, but design freedom is sometimes just as crucial," explains Eric Stevenson, product manager for signage and architecture at Lumination. "Tetra FX offers our customers the best of both worlds-they get an extremely reliable product that still allows for maximum design flexibility."
Tetra FX also brings the many benefits of Tetra LED systems to architectural lighting design. Durable and impact resistant, Tetra LED systems deliver a long lifespan of up to 50,000 hours. The systems are also simple to install and are up to 80 percent more energy efficient than neon. Tetra LED systems are another example of Lumination's proven expertise in the LED industry. More than 57 million Tetra LEDs have been installed worldwide with a warranty return rate of less than 0.05 percent.
Designed using GE Six Sigma quality standards, Tetra FX special effects controllers are backed by a 5-year limited warranty.
About Lumination, LLC
Lumination, LLC, a subsidiary of General Electric Company, drives innovation, energy efficiency and cost savings for customers that use LED products, systems and solutions. Fitted with robust, low-voltage, long-life LED light engines, Lumination solutions deliver world-class, GE-grade performance.
About GE Consumer & Industrial
GE Consumer & Industrial spans the globe as an industry leader in major appliance, lighting and integrated industrial equipment, systems and services. Providing solutions for commercial, industrial and residential use in more than 100 countries, GE Consumer & Industrial uses innovative technologies and "ecomagination," a GE initiative to aggressively bring to market new technologies that help customers and consumers meet pressing environmental challenges, to deliver comfort, convenience and electrical protection and control. General Electric (NYSE: GE) brings imagination to work, selling products under the Monogram®, Profile™, GE®, Hotpoint®, SmartWater™, Reveal® and Energy Smart™ consumer brands, and Entellisys® industrial brand.
Contact
For further information, contact GE at www.ge.com.
E-mail:david.schuellerman@ge.com
Web Site:www.led.com